The cabinet-making workshop undertakes projects designed by our various clients, from single, one-off pieces to larger production runs, and we employ an ever-evolving range of techniques, including bending, inflation, moulding, veneering, marquetry and lacquering, all fuelled and enriched by our innovation centre. Our 550m2 workshop is perfectly equipped to meet the requirements of various industries, including design, architecture, fashion and the automobile world.
Wood: our other grey matter
Kellywood
Maison Hermès
Full range of marsh oak handbags made with our BOIS LARMÉ© innovation. This new version of the historic Kelly bag from Maison Hermès is the result of an extraordinary 2 years collaboration between ARCA and Hermès Sellier.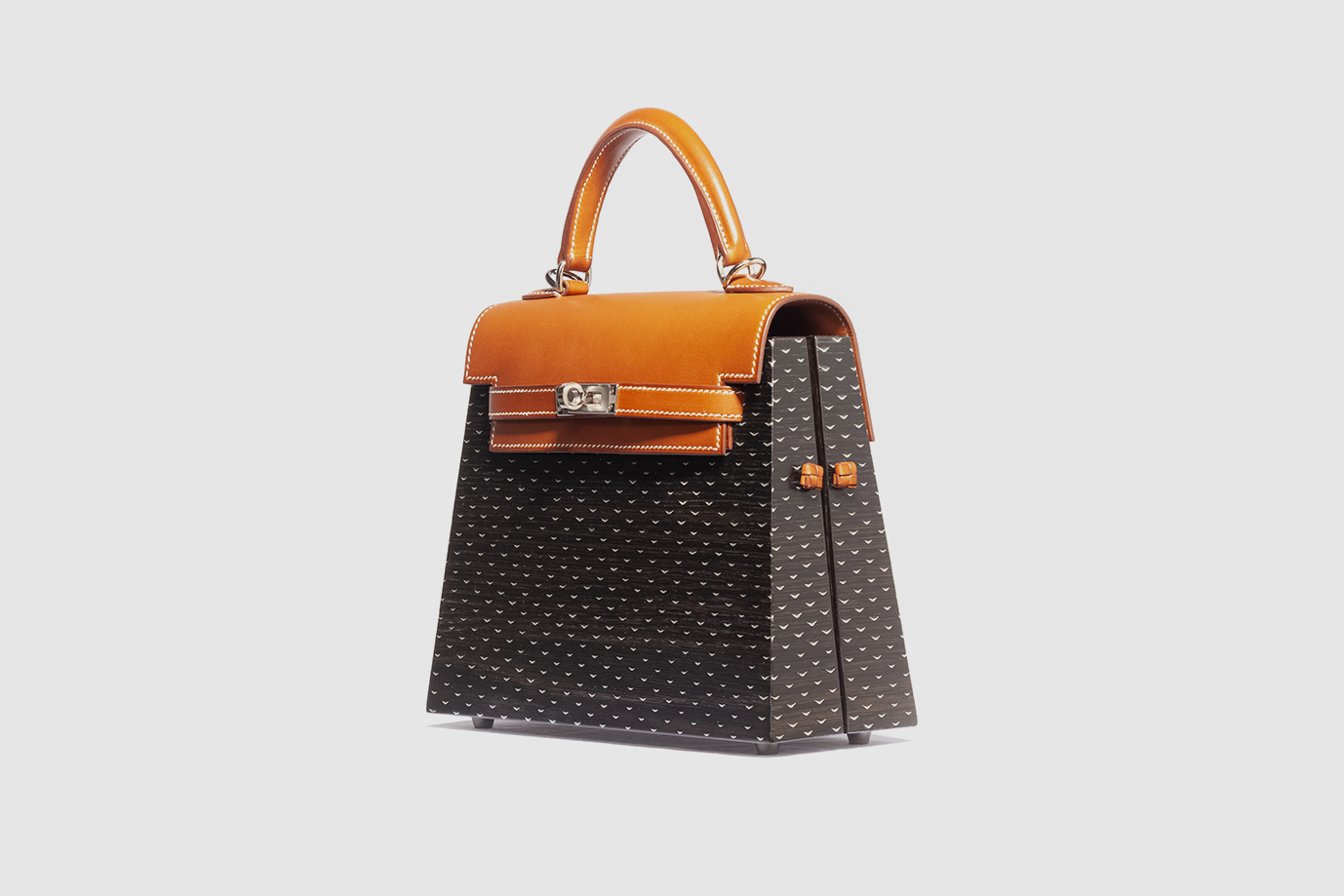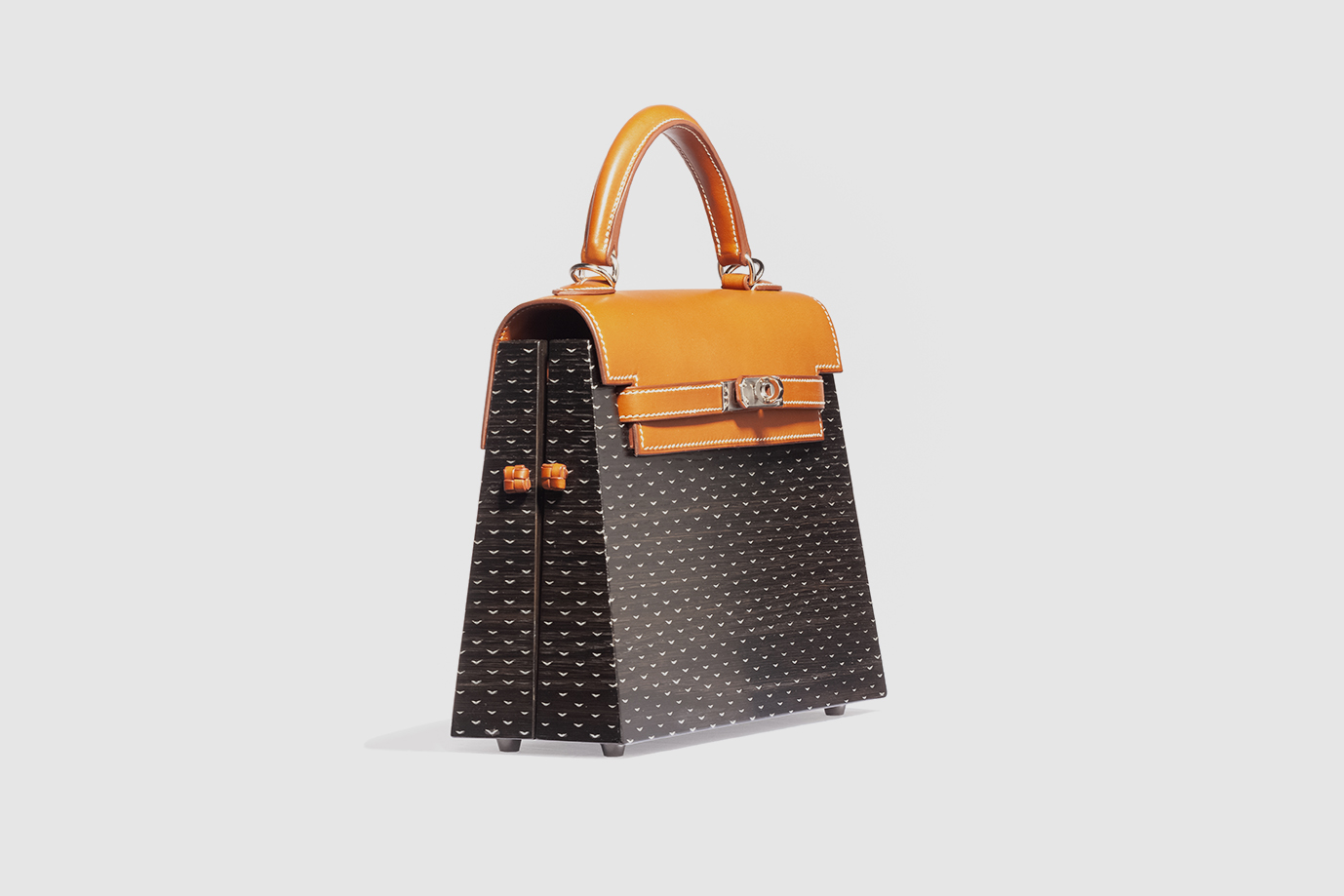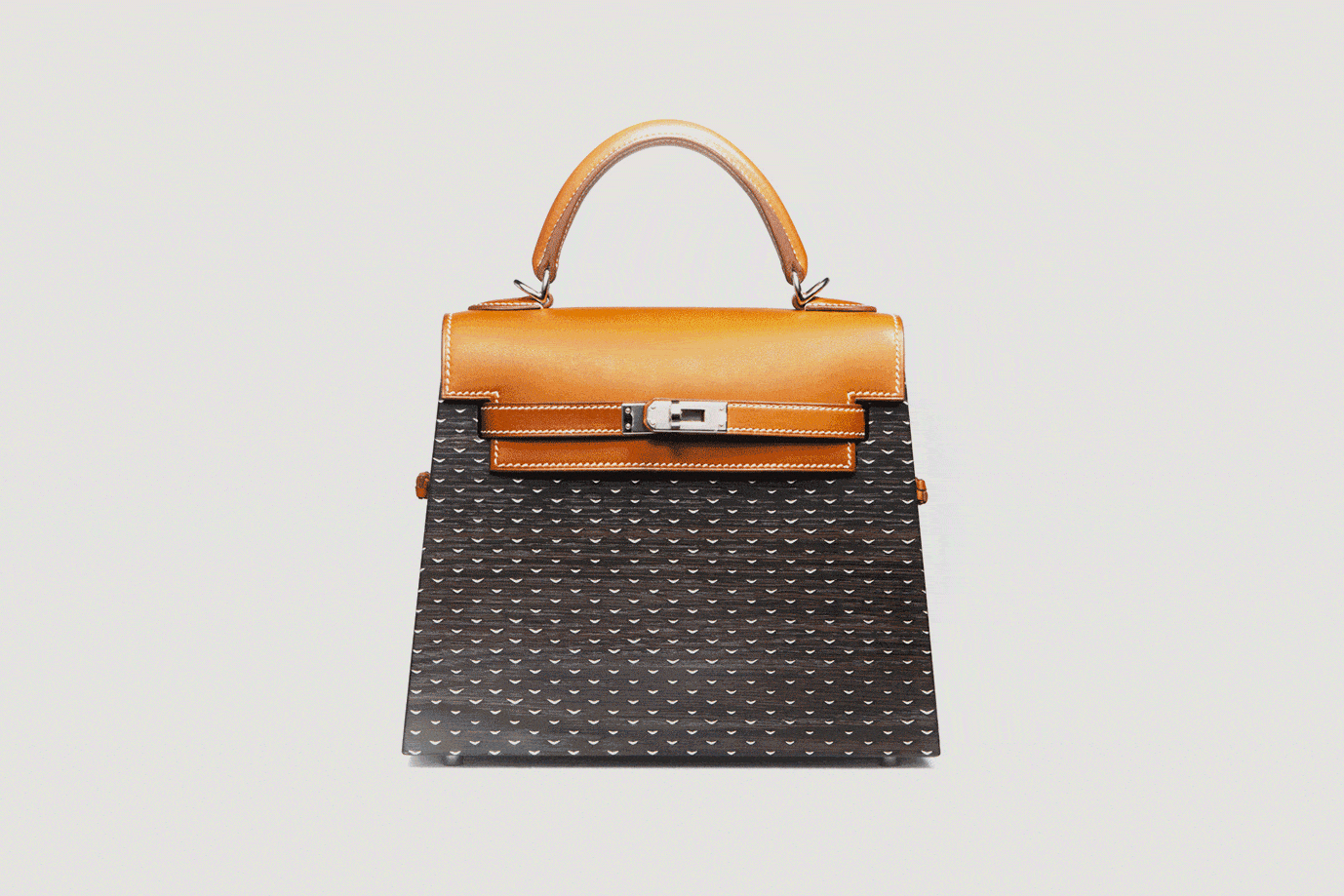 balsat
Design Normal Studio
H : 450 mm
Coffee table made from identical sections taken from the same oak trunk in order to preserve the wood rings. After the gluing stage, each piece is worked entirely by hand, then burned in order to change its color and appearance, becoming almost mineral. Limited edition for Ymer & Malta.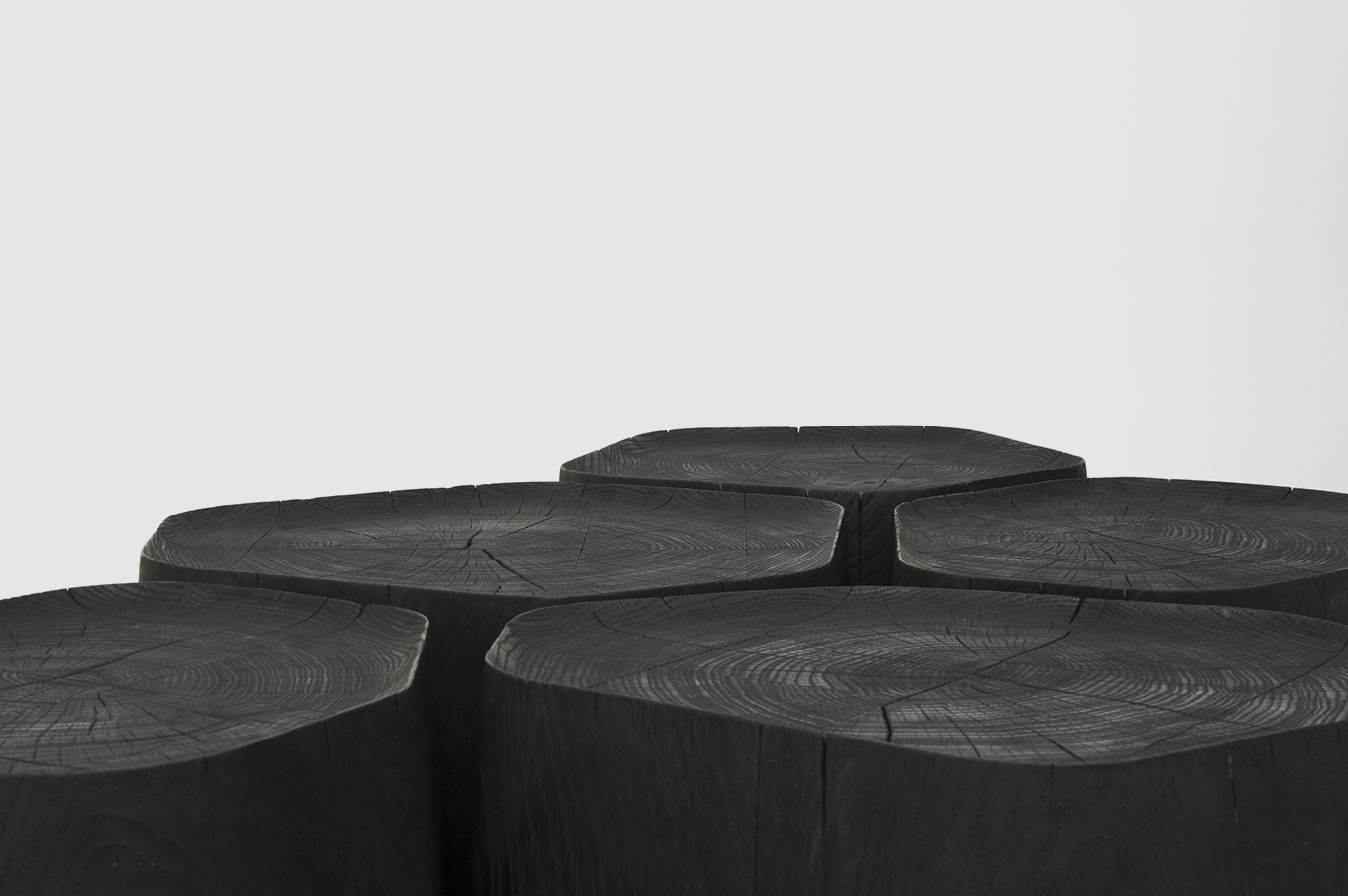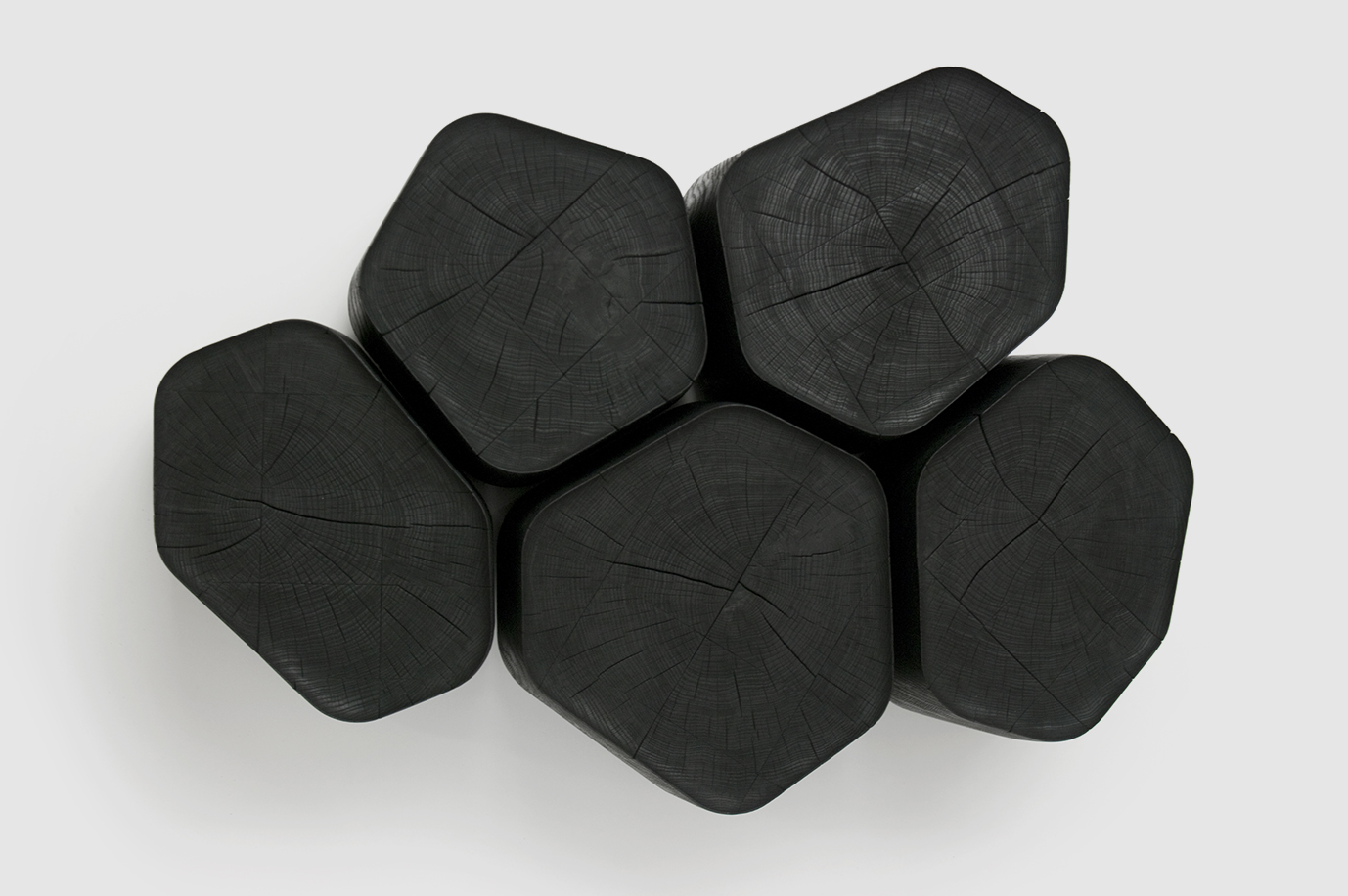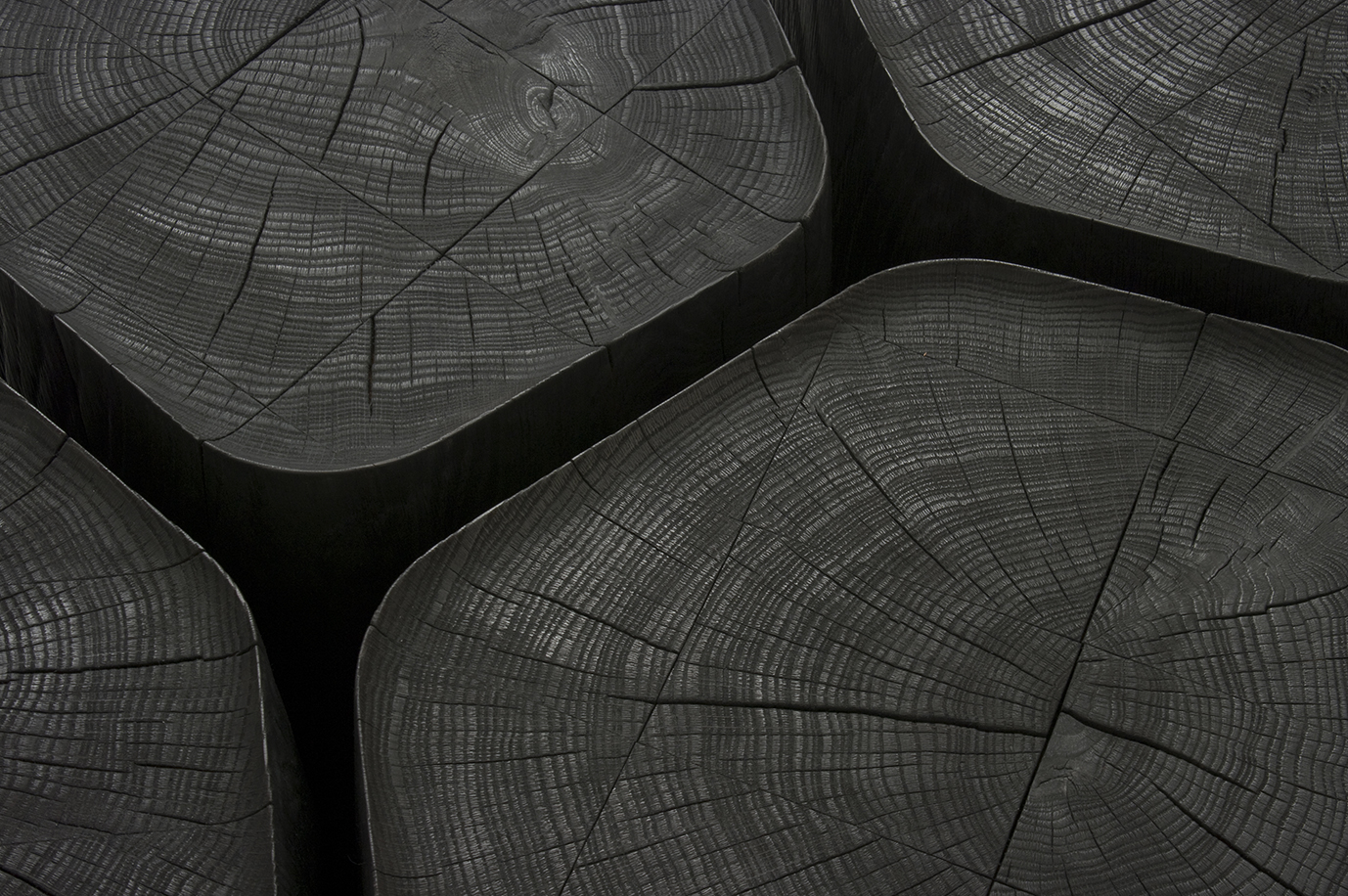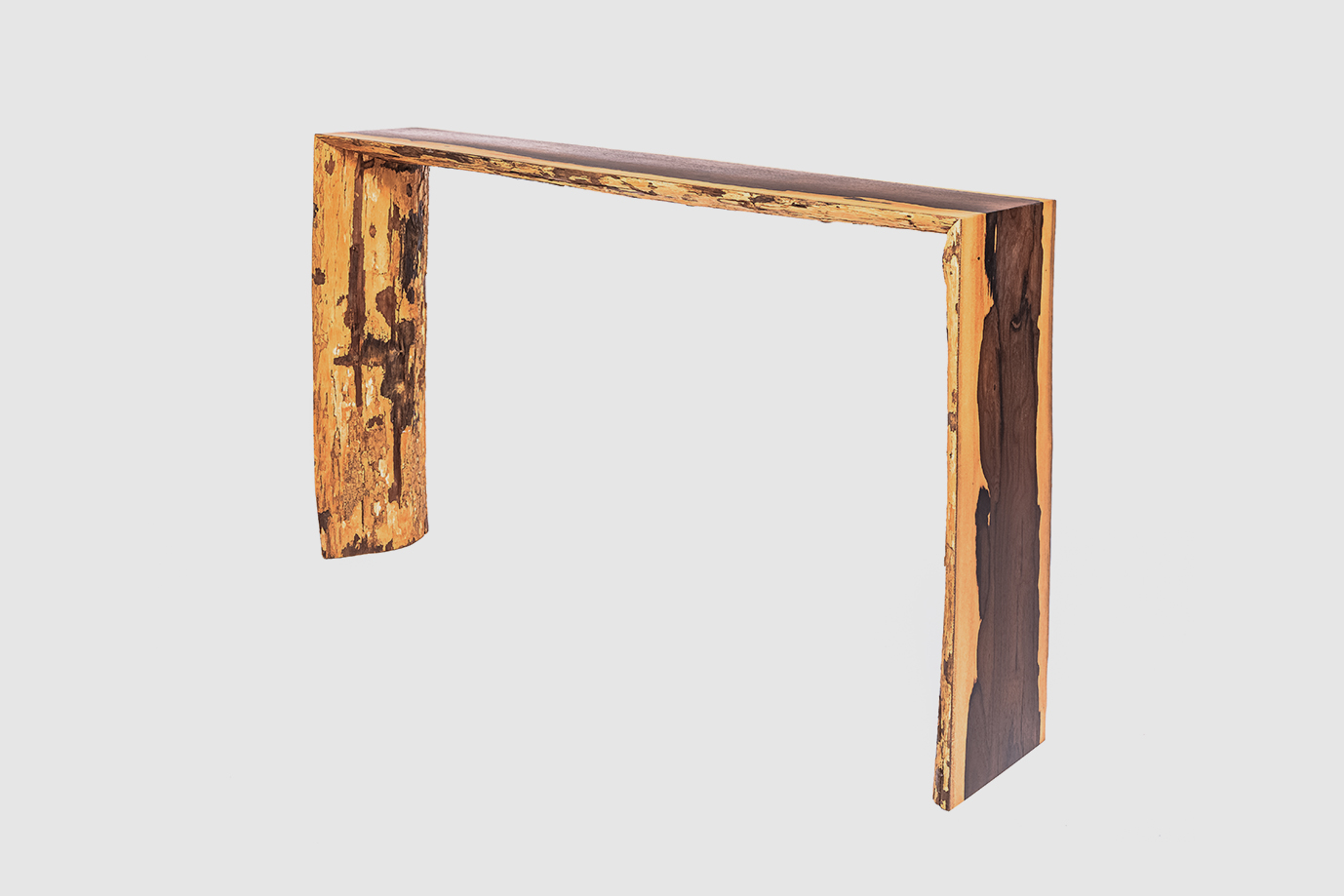 Dosse
Design Alexandre Echasseriau

1280 x 280 x 900 mm
Designed by Alexandre ECHASSERIAU, choice and realization in collaboration. Stemming from an ecological problem: «how to recover solid wood waste ?». Highlighting a flame veining on the exterior faces and the debarked tree trunk rough surface on the interior faces. The veining connection is subtly ensured at the edges of this console.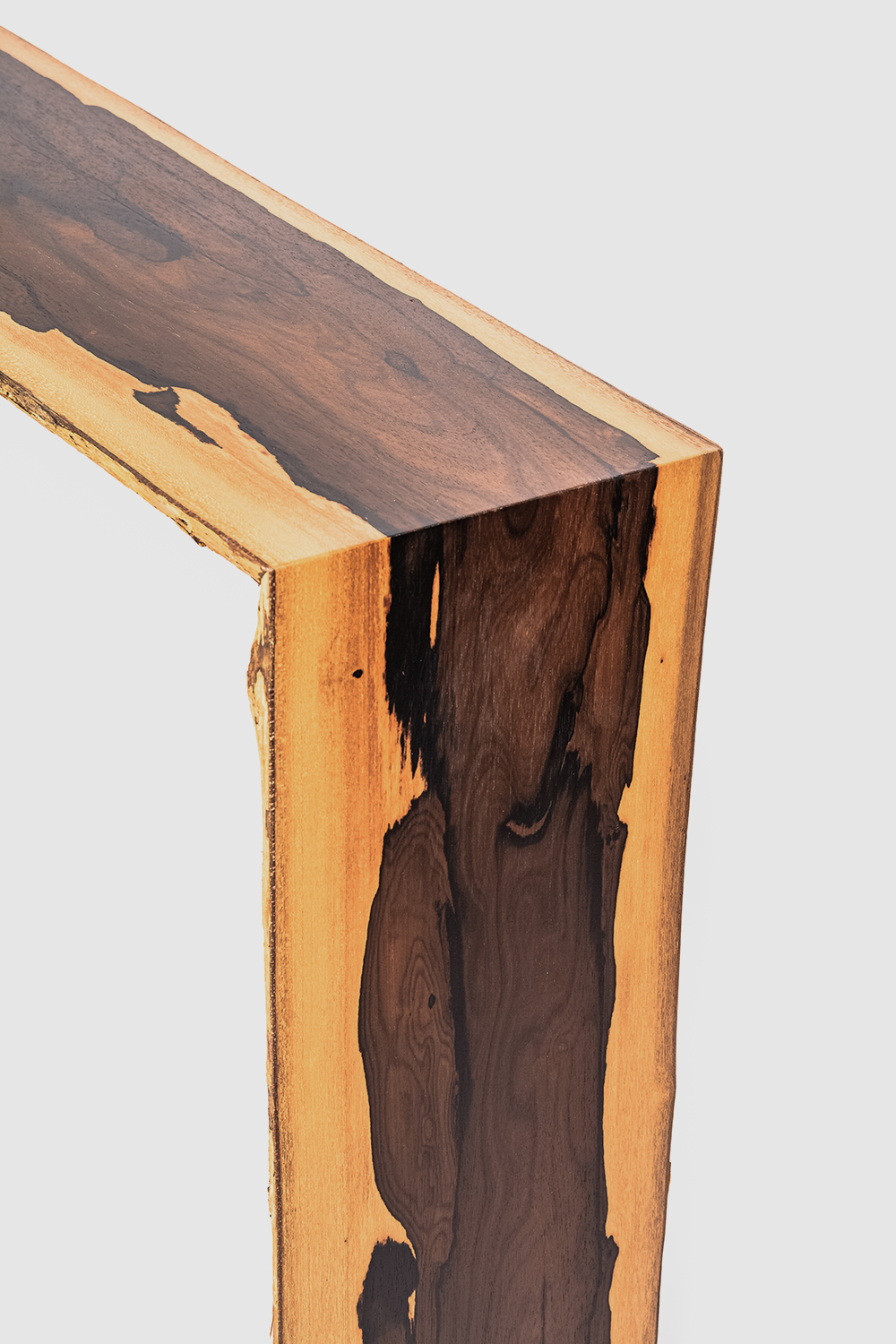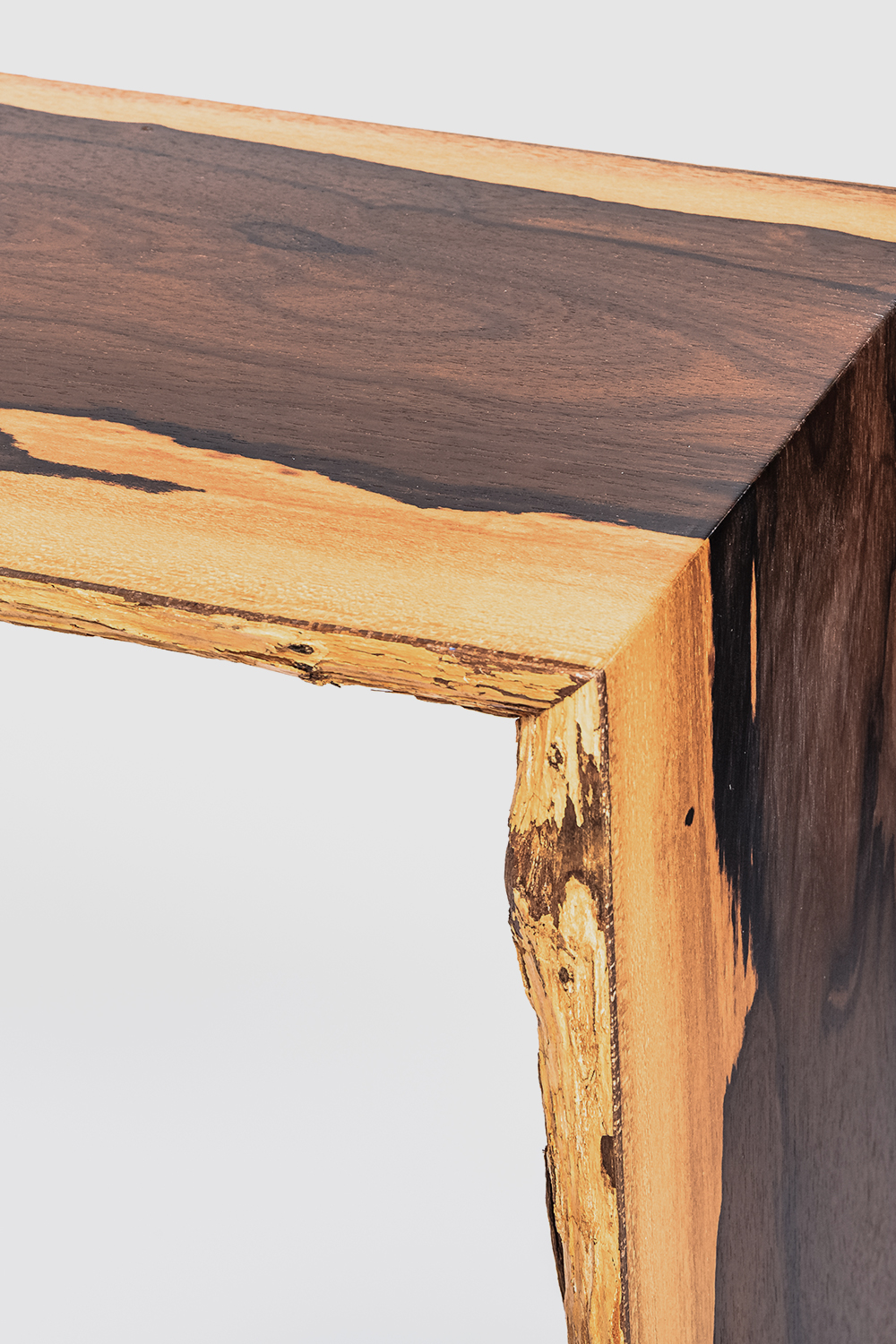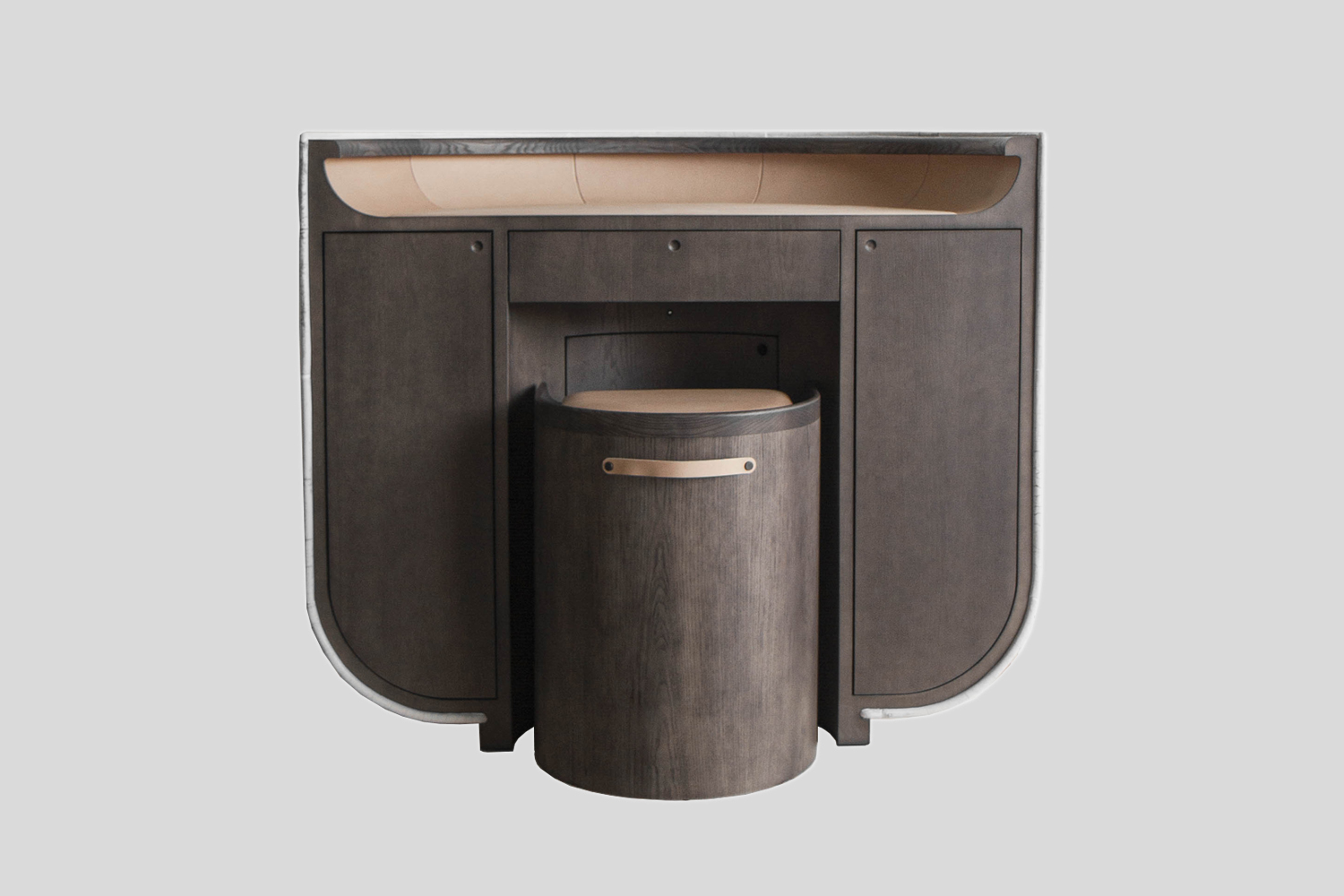 Neonata
Design Noé Duchaufour Lawrence

1150 x 810 x 1150 mm
Bollard made of stained ash veneer, leather. It is the result of a collaboration between Atelier Jean Daniel Savoye (Leather) and Fabienne L'Hostis (Raku paving) managed by Arca (Wood).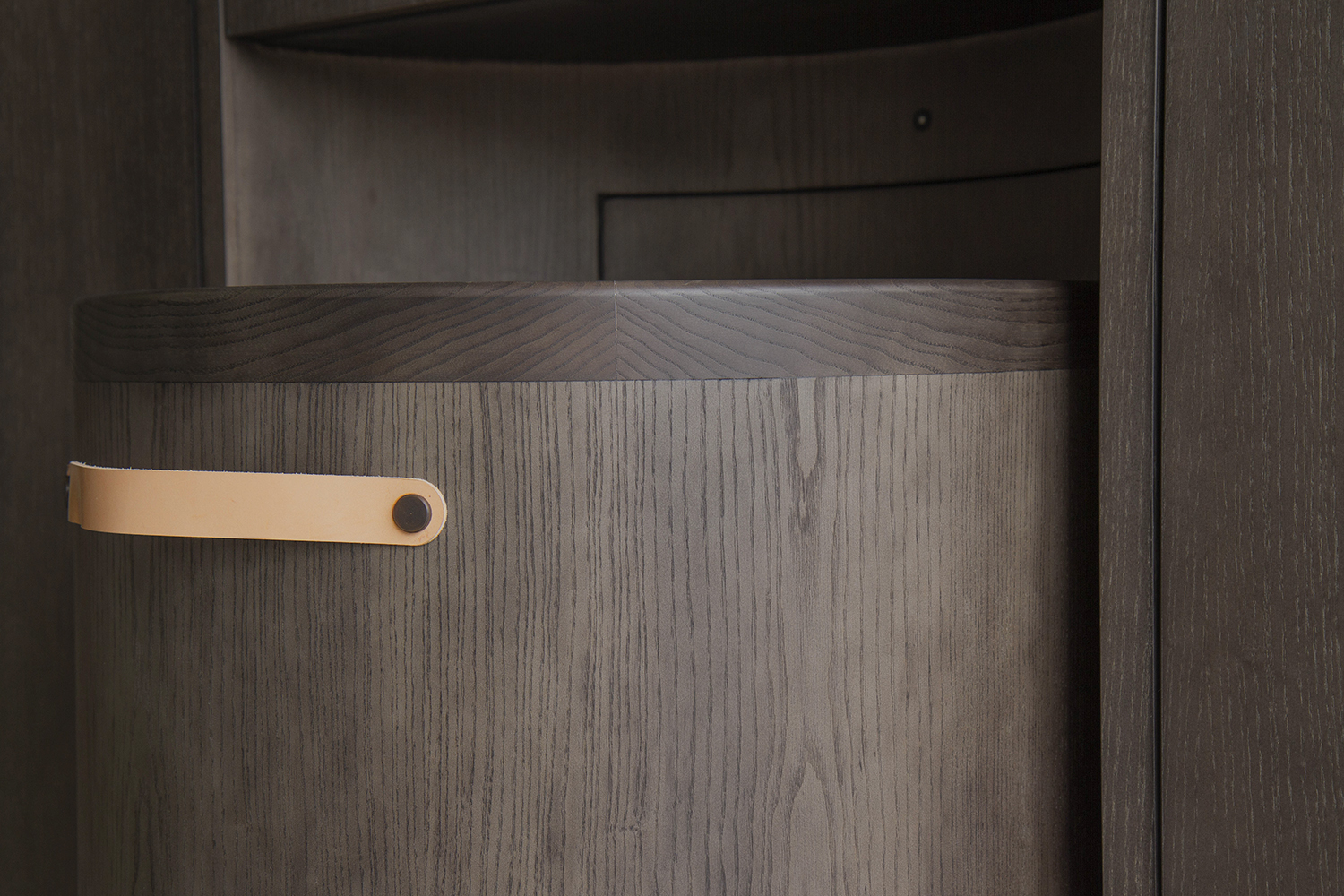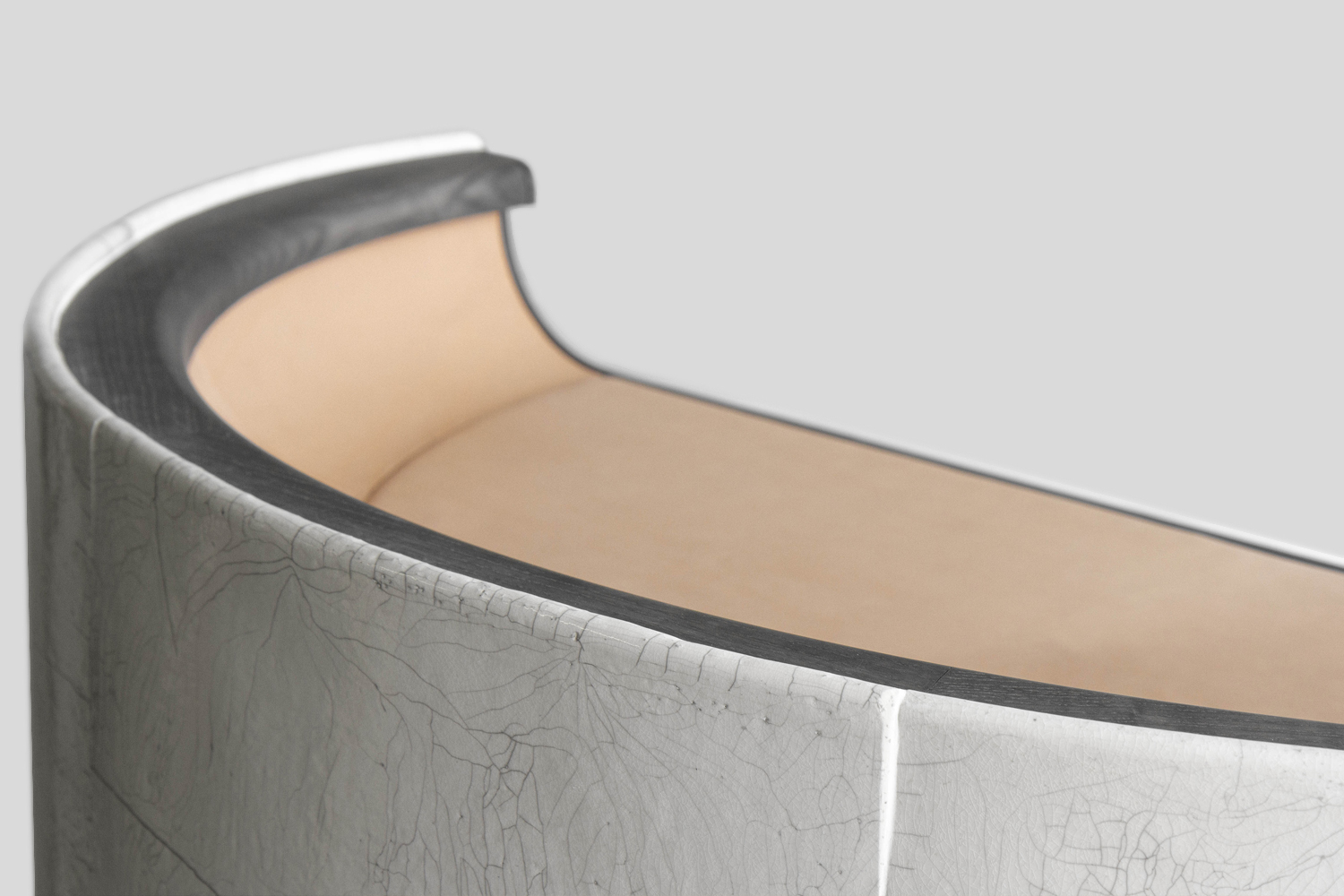 Pentaphone
Design Robert Stadler

750 x 750 x 750 mm
A space that allows you to find a little privacy and isolate yourself from ambient noise. Made of plywood veneered with Santos rosewood with wallet curling.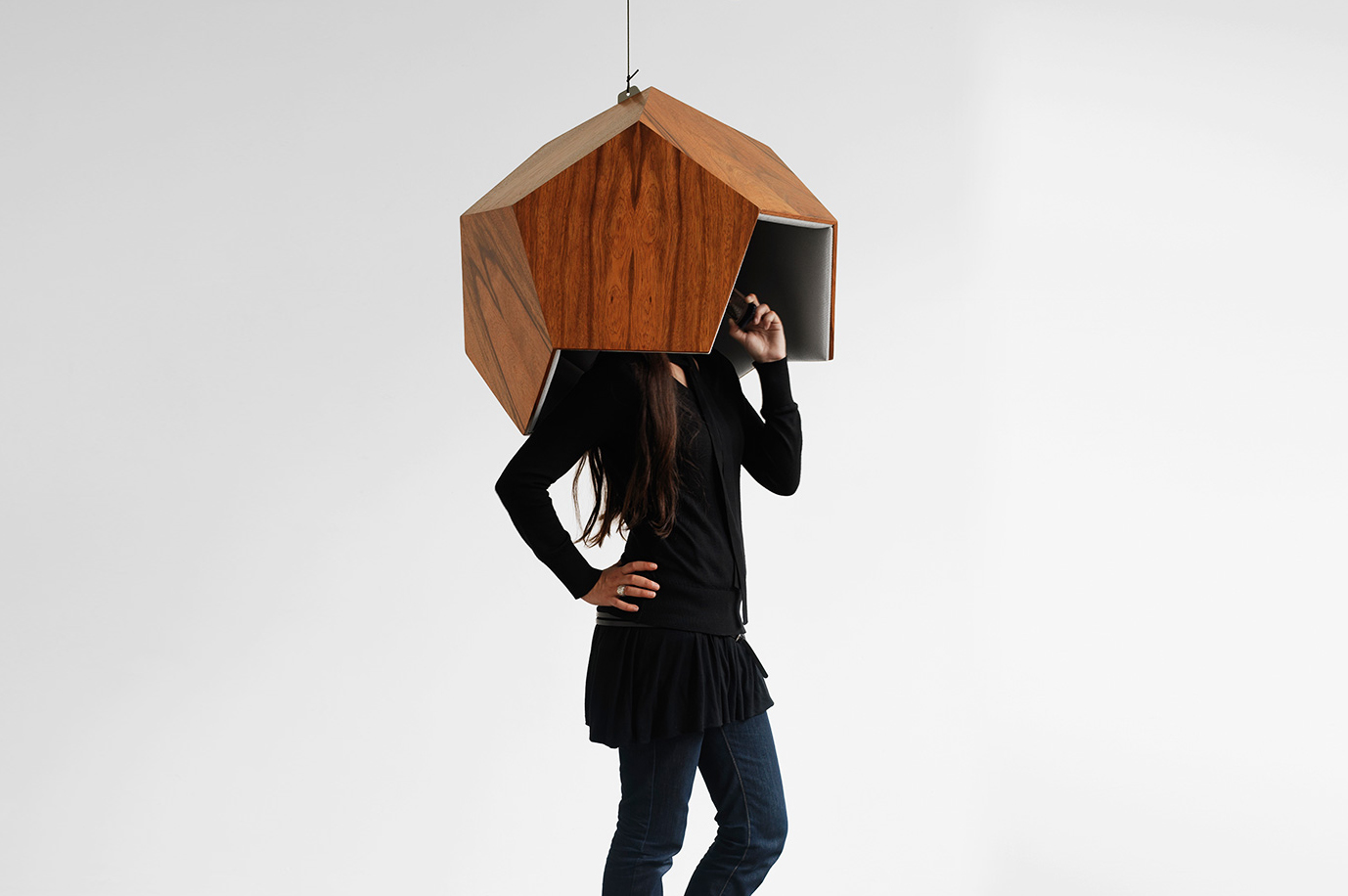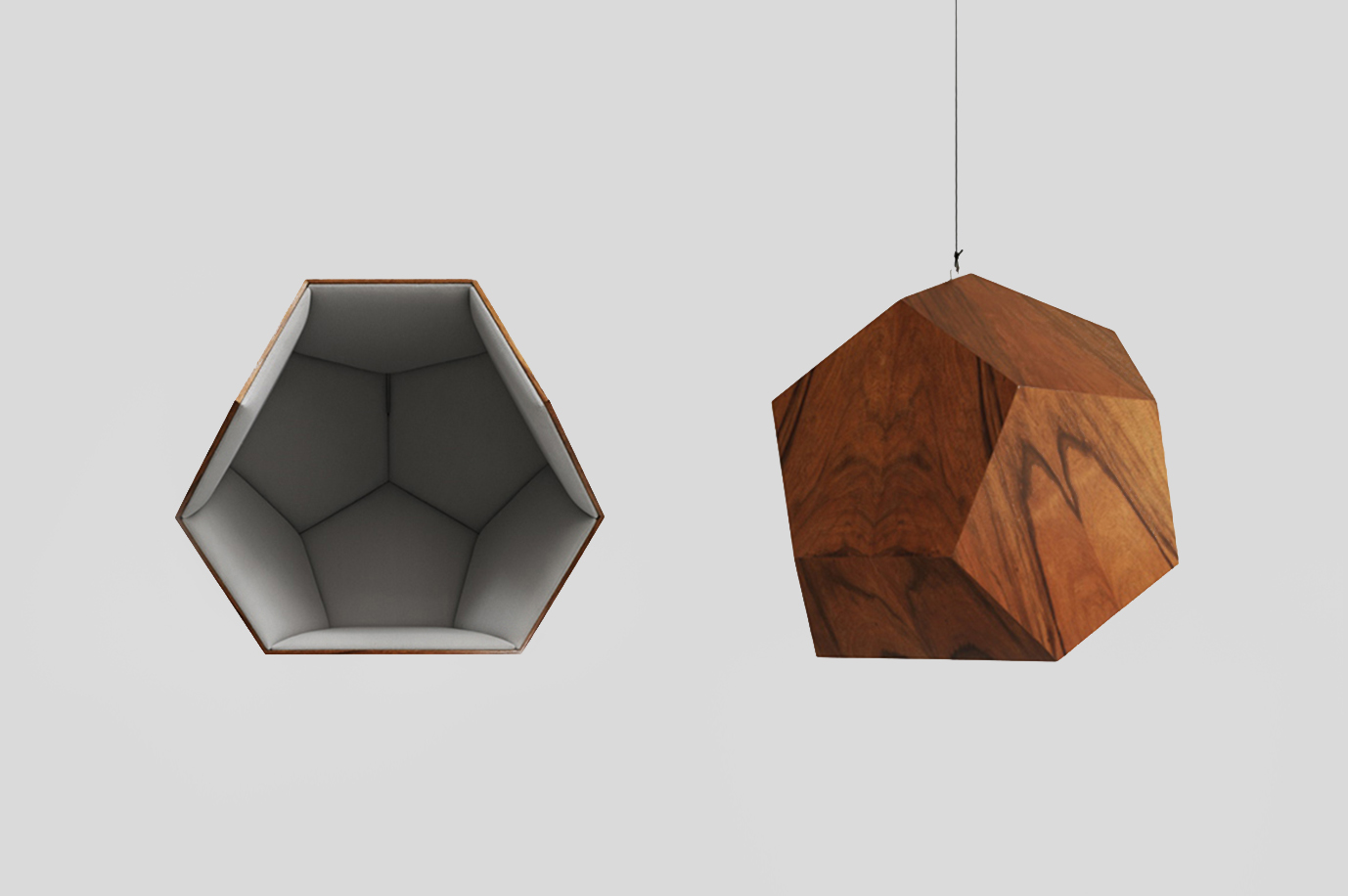 lumino
Design Gaëtan Guillaumin

150 x 180 mm
Made in US Walnut, this playful lamp uses WOOWOOD© technology to offer different types of lights. A simple rotational movement tightens or relaxes the membrane, which changes from diffused light to ambient light.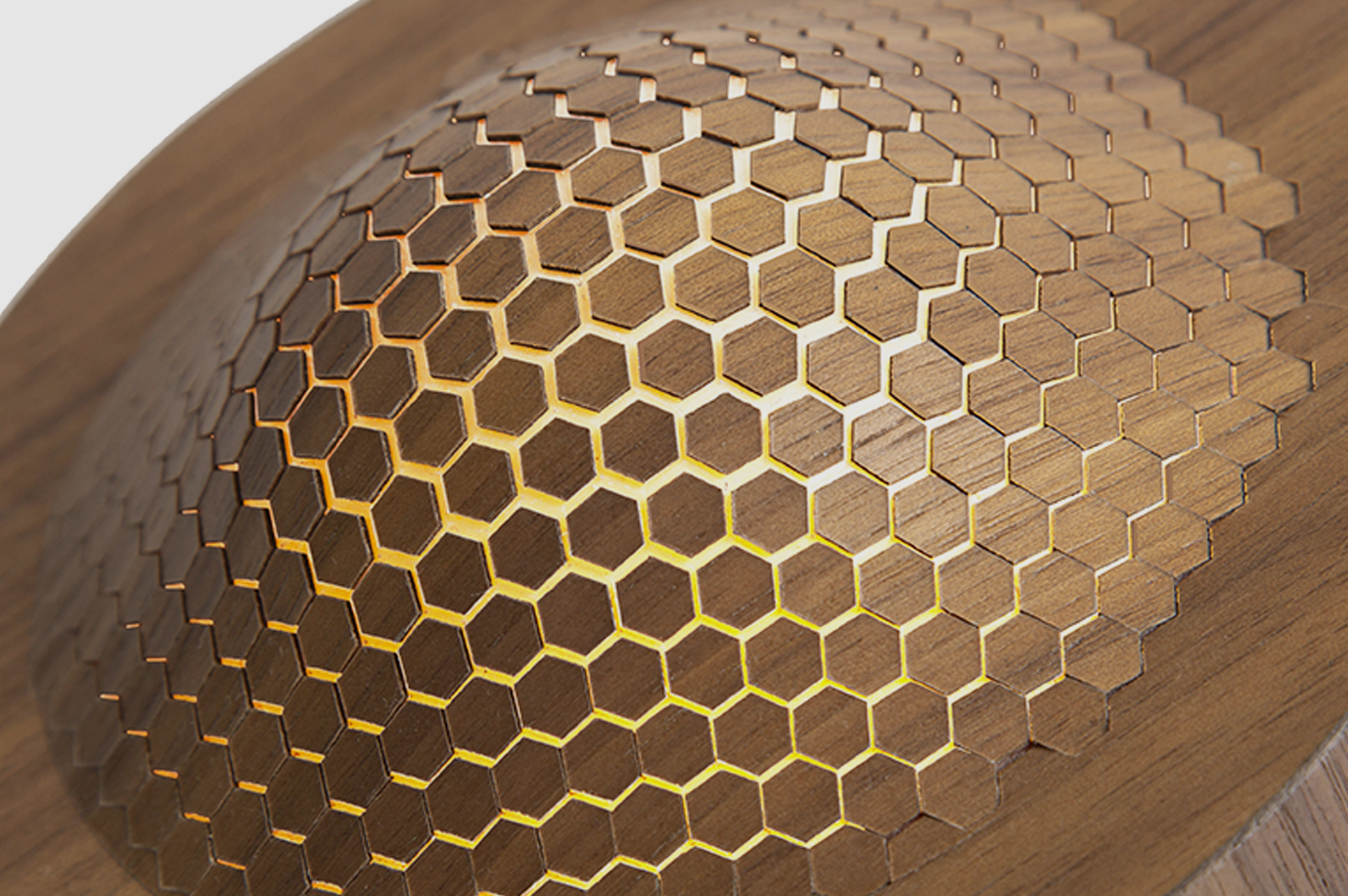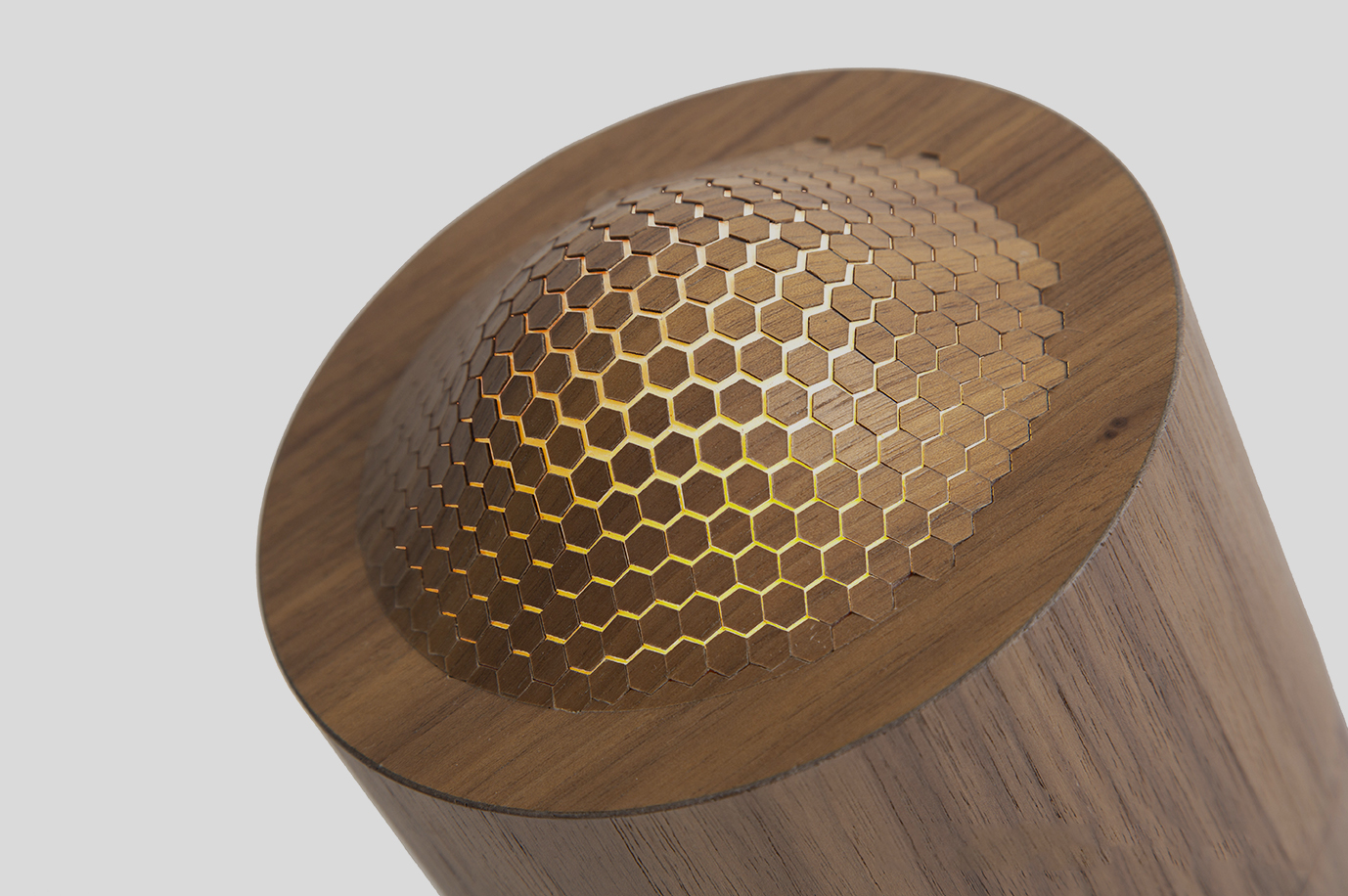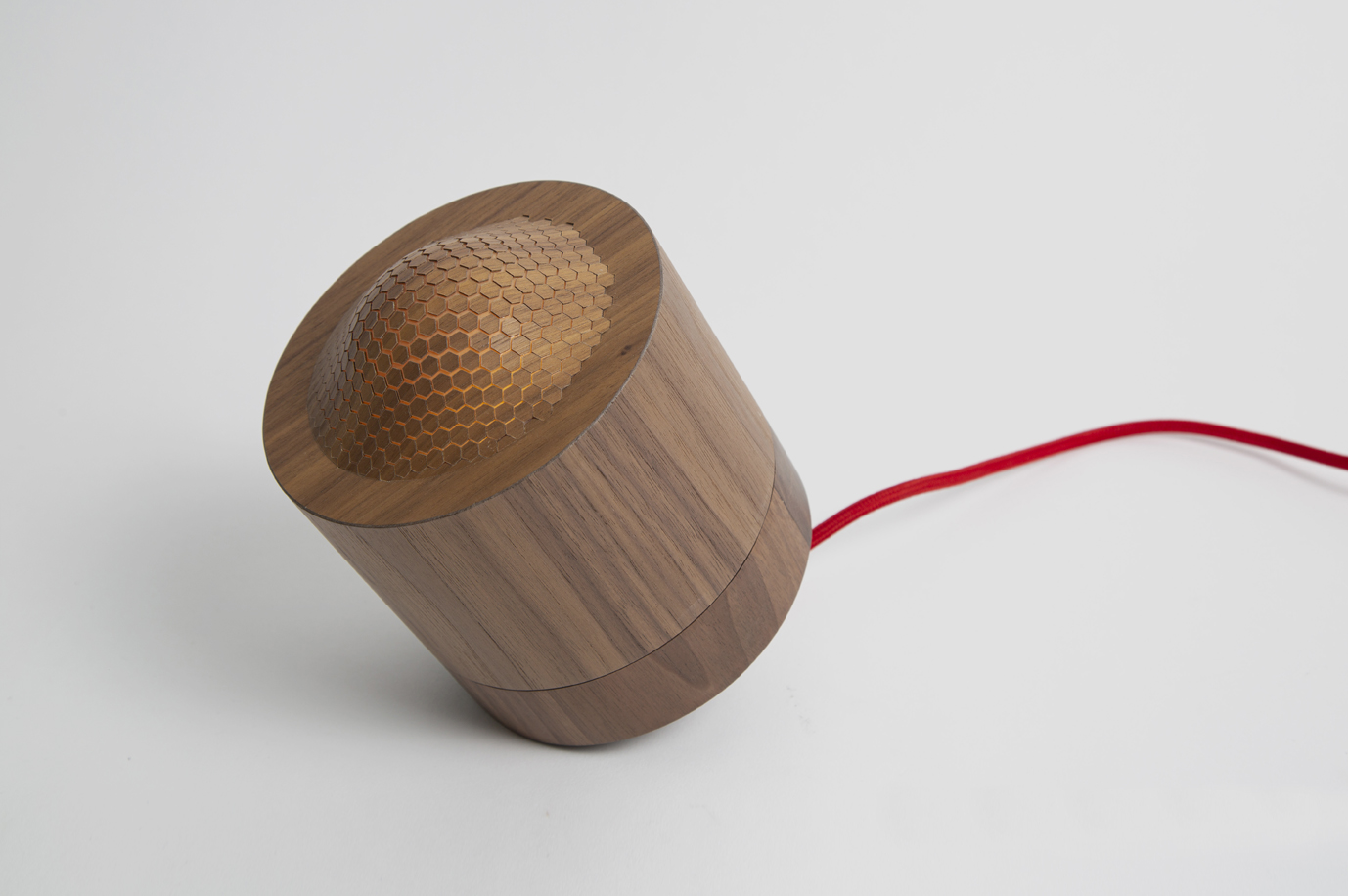 Emergence
Design : Diane de Kergal

Inspired by her travels, she tirelessly draws cocoons… and finally discover in the Cévennes, France, a breeding of silkworms, virtuosos in the matter. She entrusts her casts to Sericyne, so that their worms weave their silk cocoons as close as possible to her sculptures. Sold by Gosserez gallery, these lamps are unique pieces. ARCA carry out the adjustments wood, metal, transparent structure, electric system.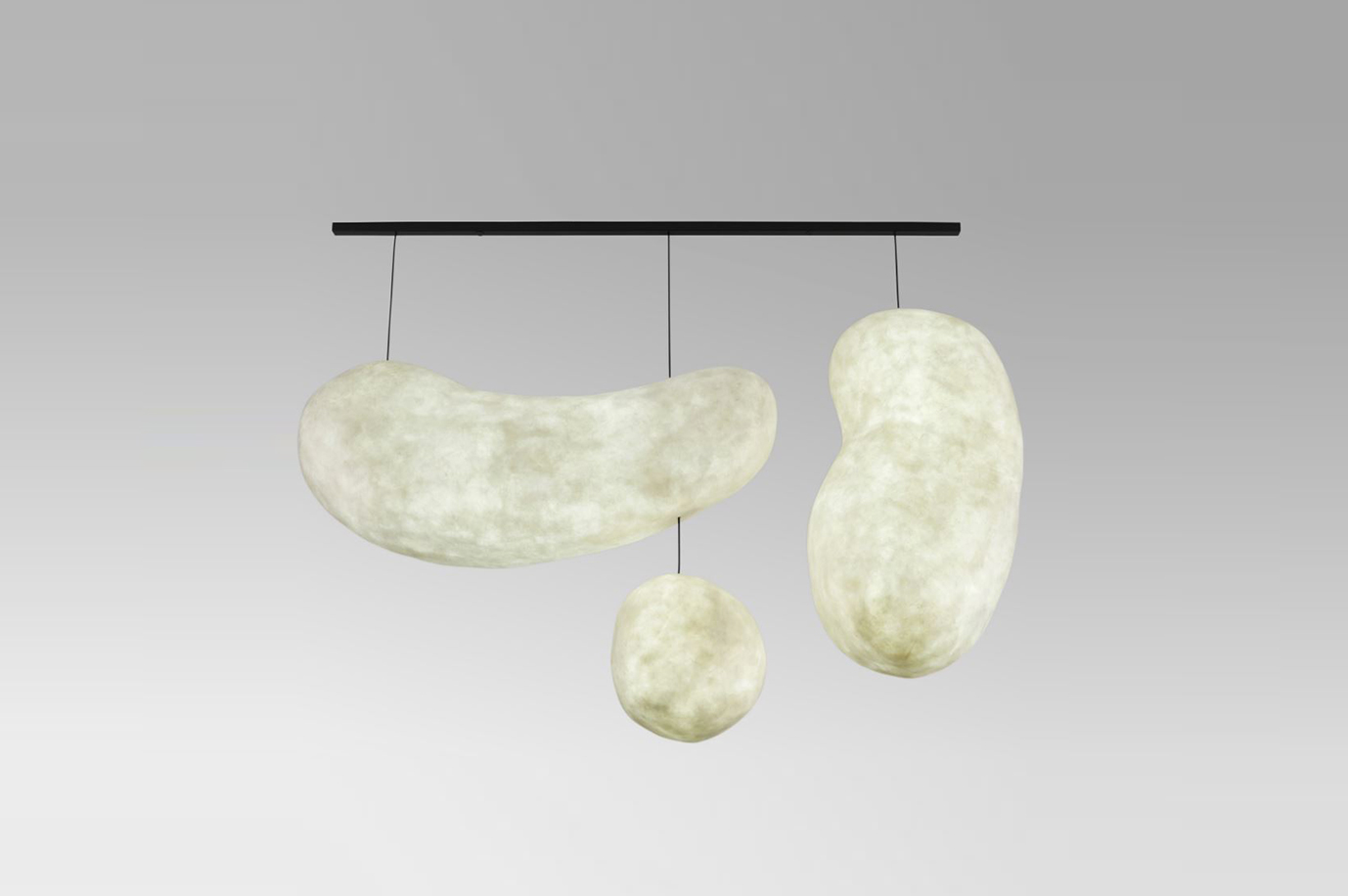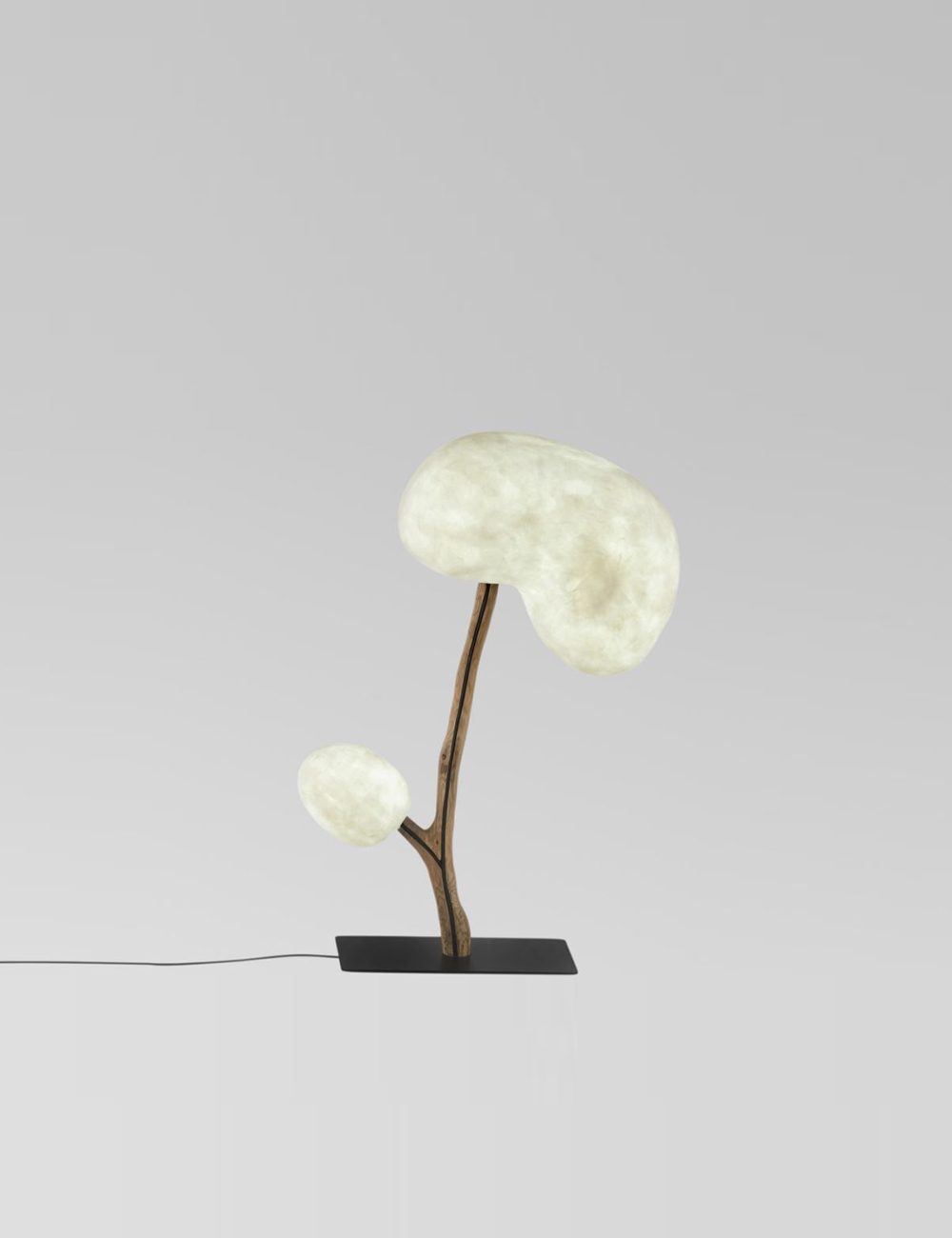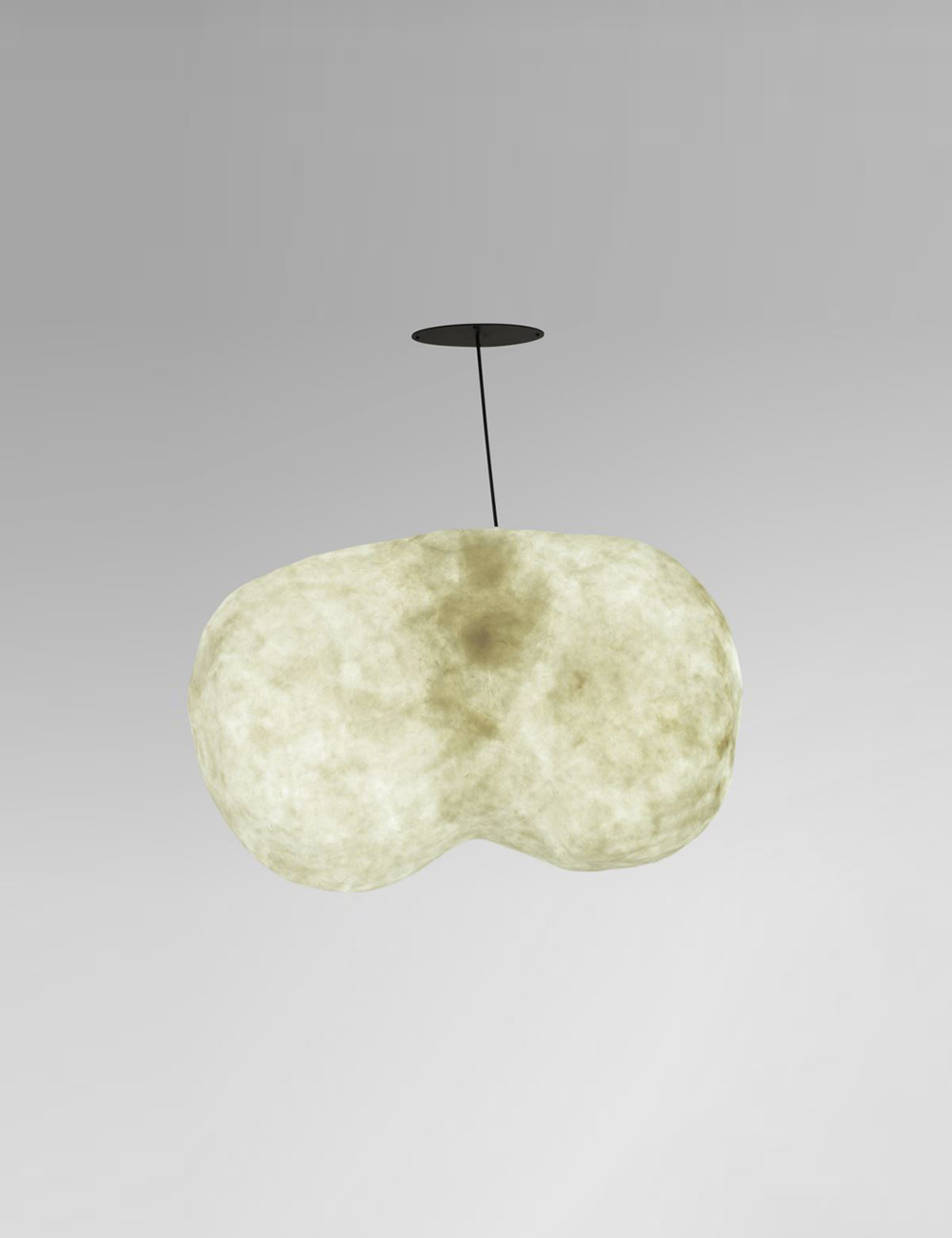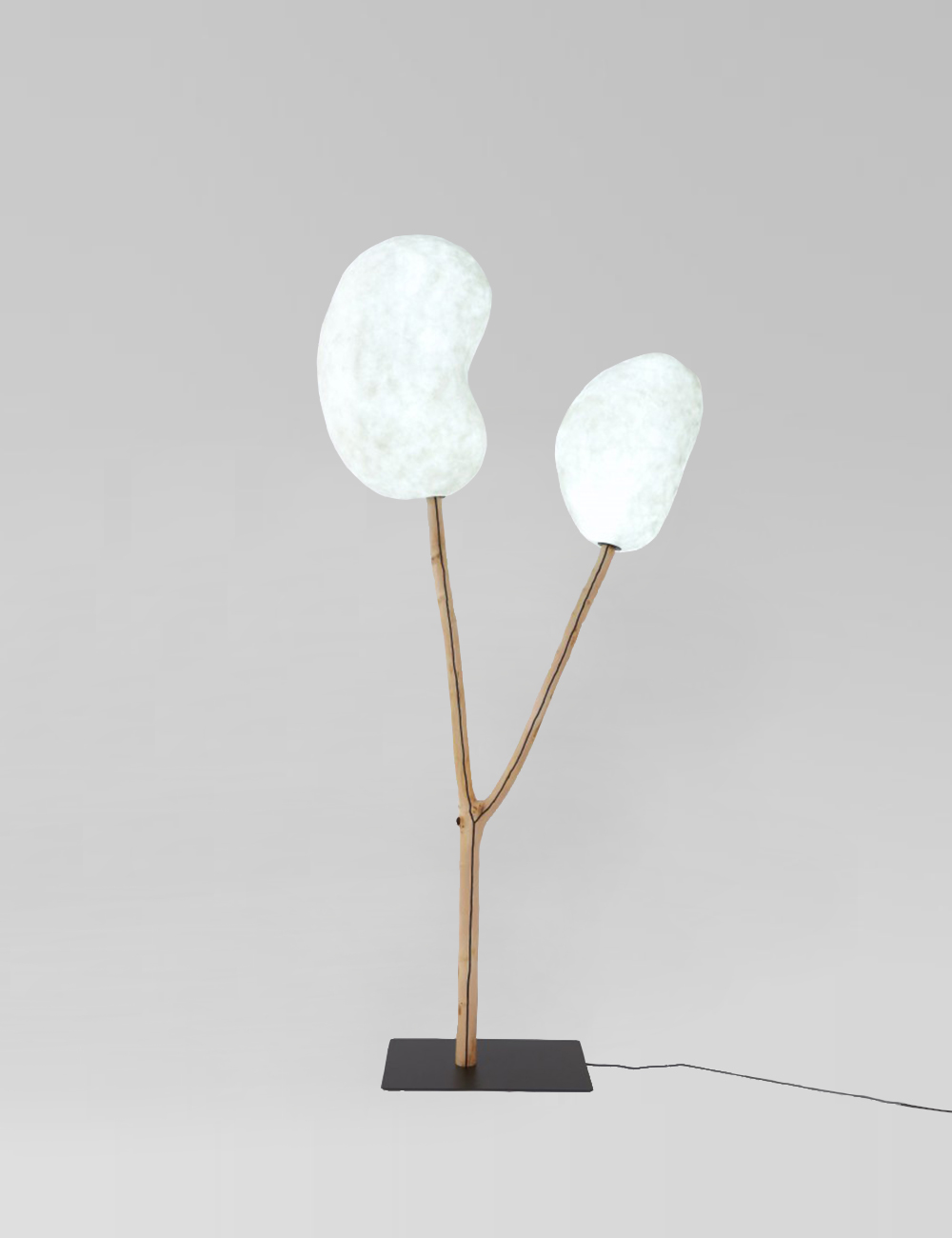 Hommage
Design : Thierry Dreyfus

2400 x 1100 x 750 mm
Made from an industrial extruded shape: IPN. Smoked chestnut table, split in two along its entire length, as if torn in gold. The relief in the center is a scan of the Himalayas.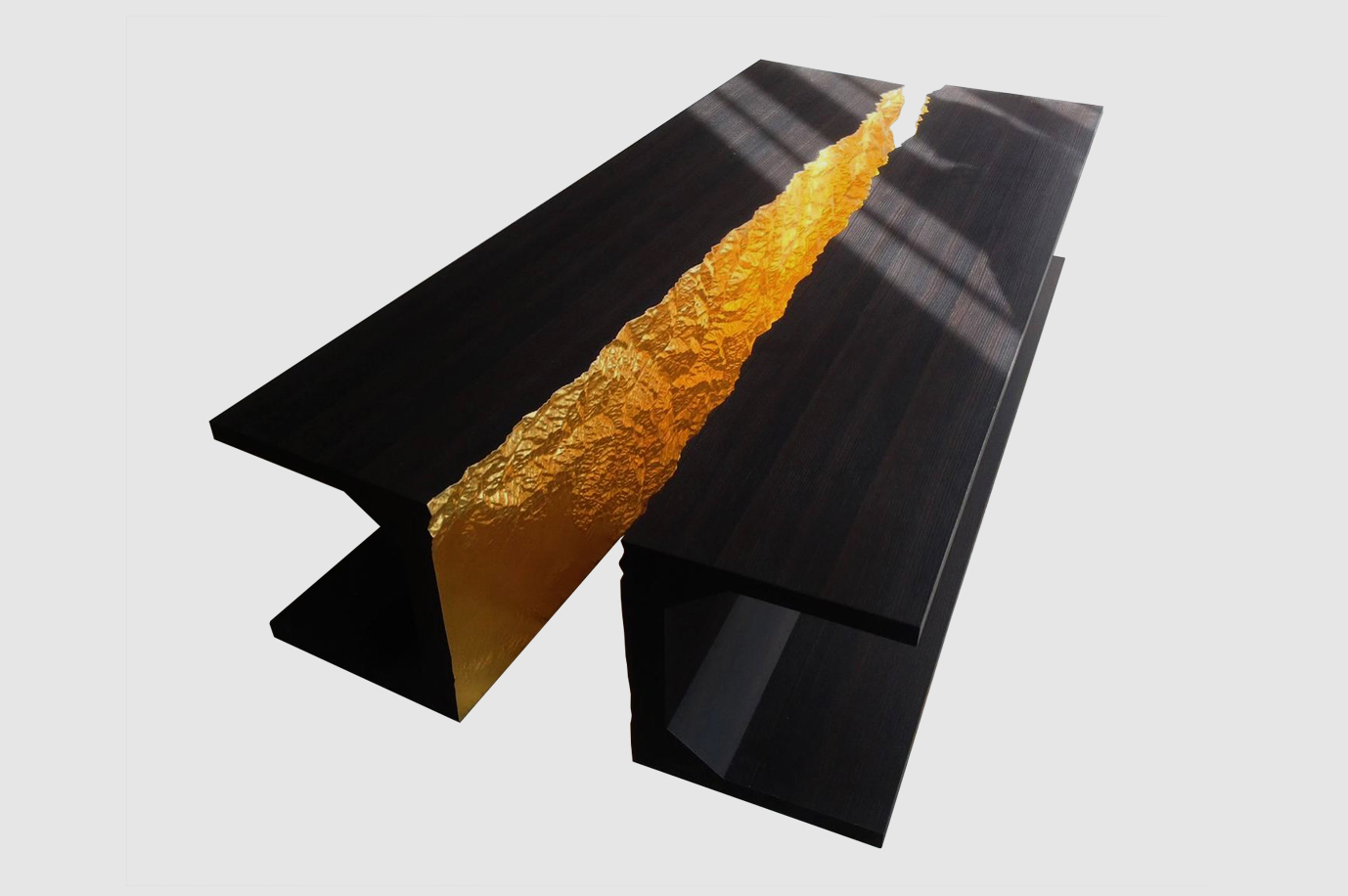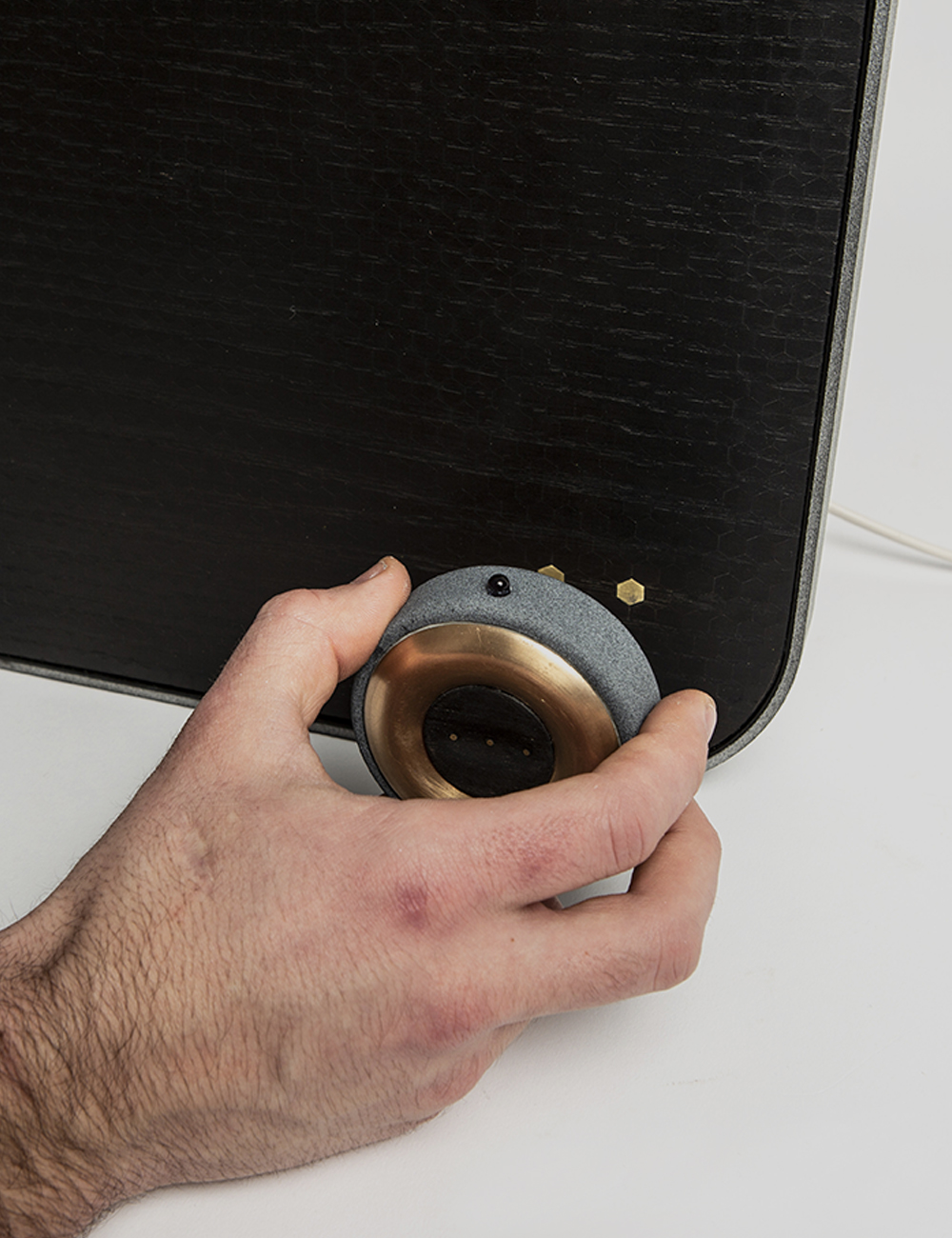 pulse
Design Gaëtan Guillaumin
Pulse is a wall speaker that uses the sound properties of wood to create and emit sound. Its soft wooden cone WOOWOOD© stretches on ignition and offers a clear and natural sound.
morphoz
Design Renault

Interior plating of the Renault MORPHOZ concept car. Extendable central column integrating AI through microperforations animated by LEDs and a WOOWOOD© zone which deforms to receive your smartphone and act as a car key.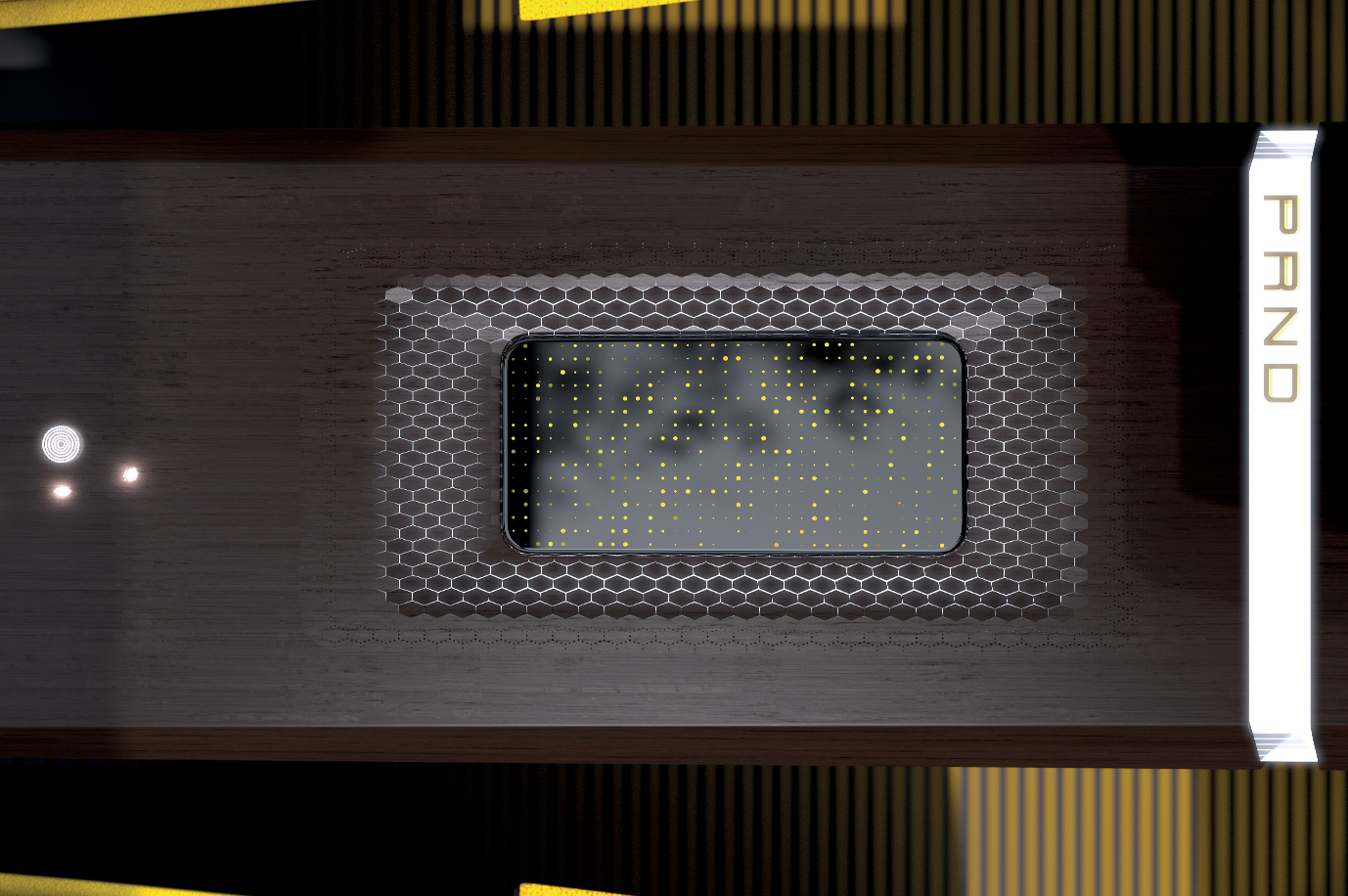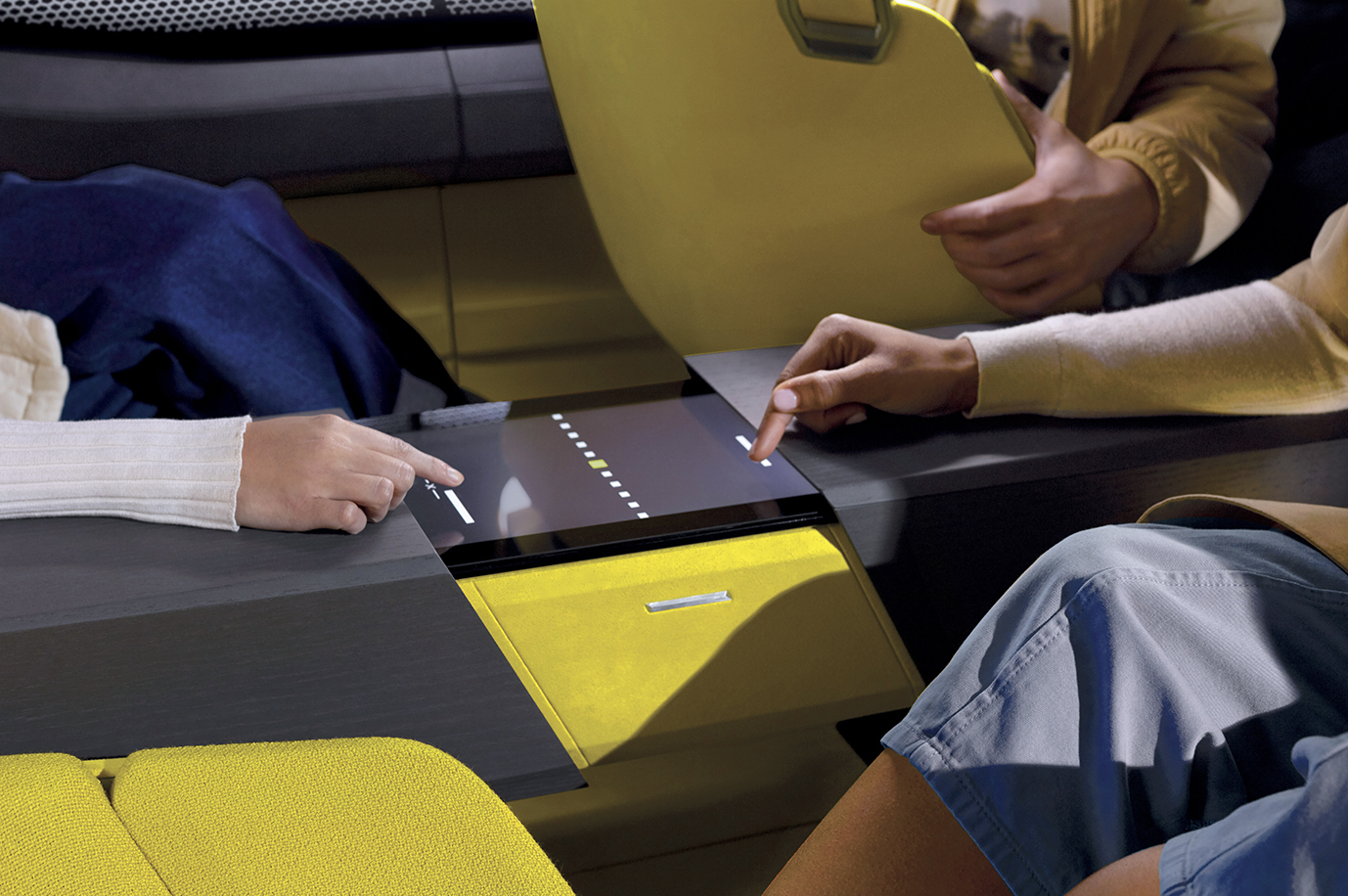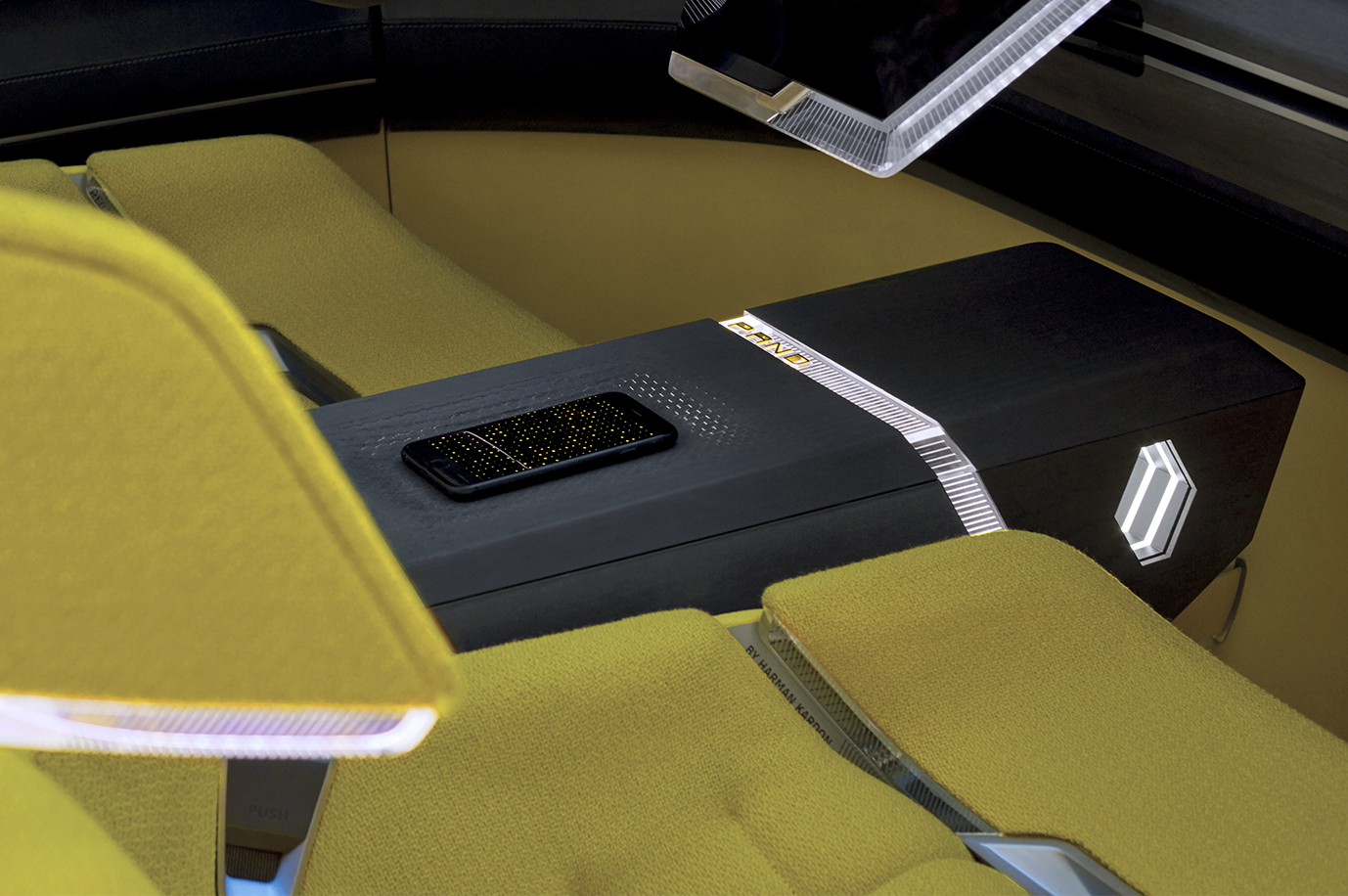 callatay
Design Joackim Callatay
A series of a hundred pairs of heels was made for designer Joakim Callatay. All heels are handcrafted and made of solid pine wood with some other species collages.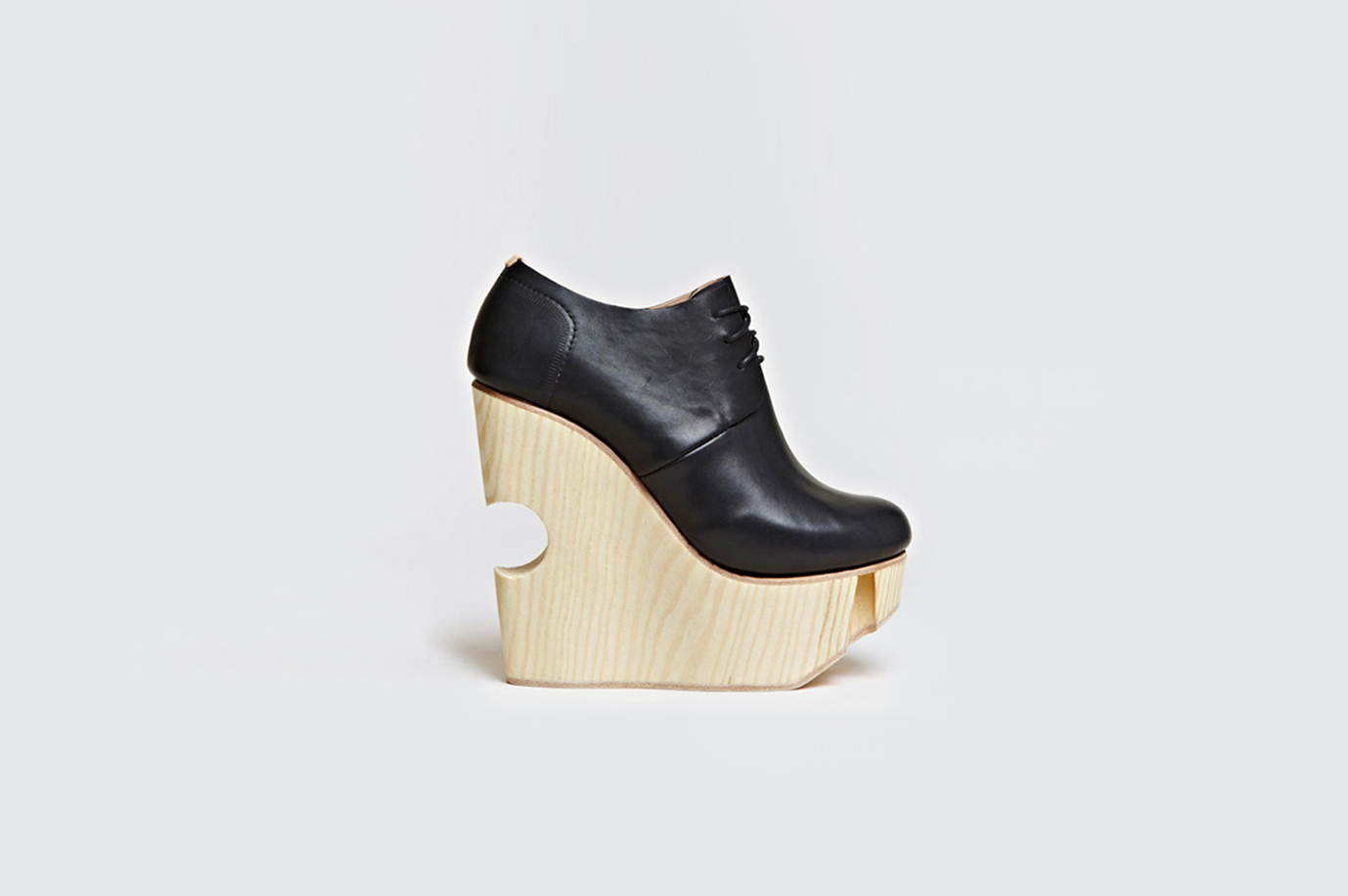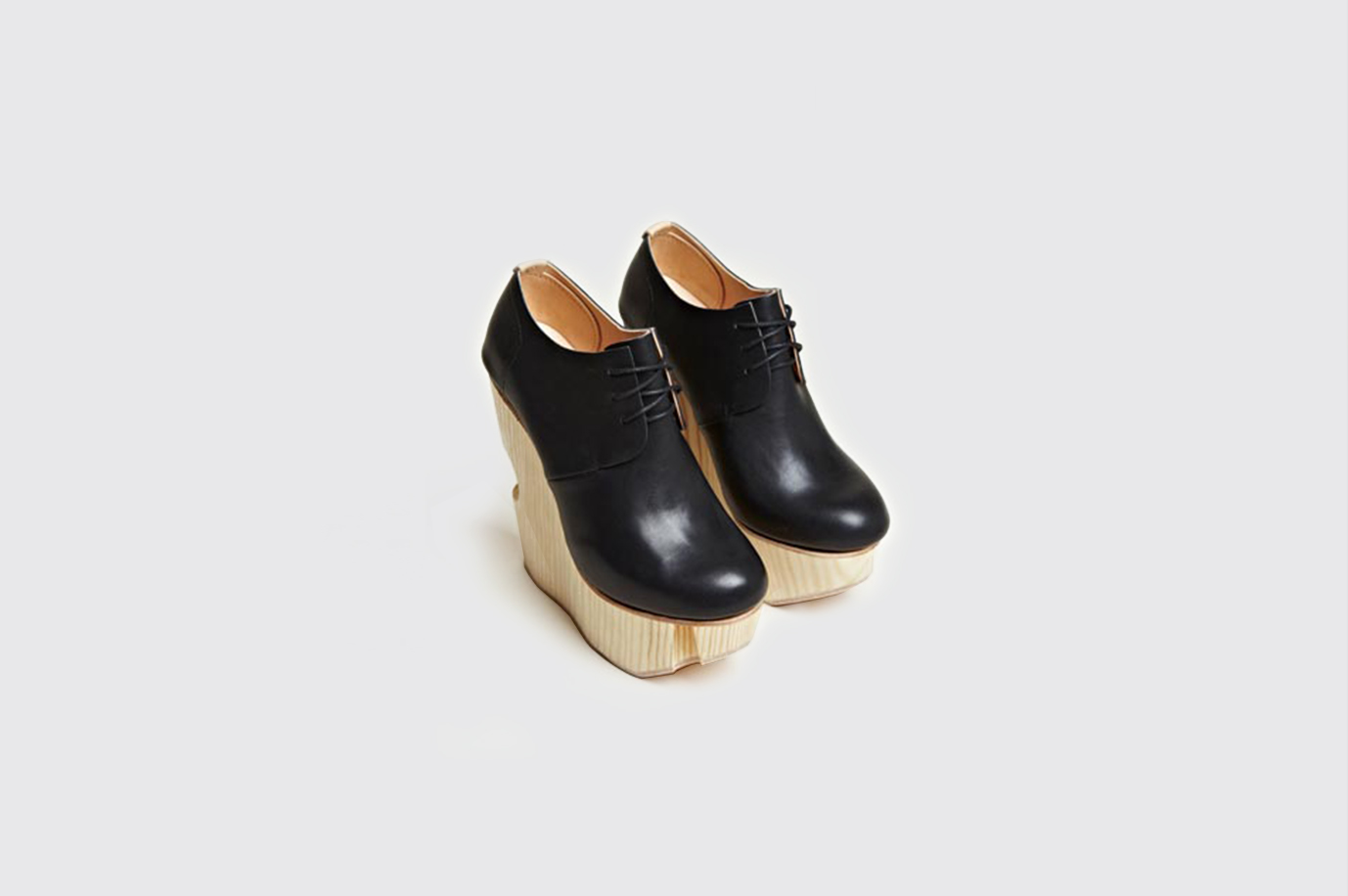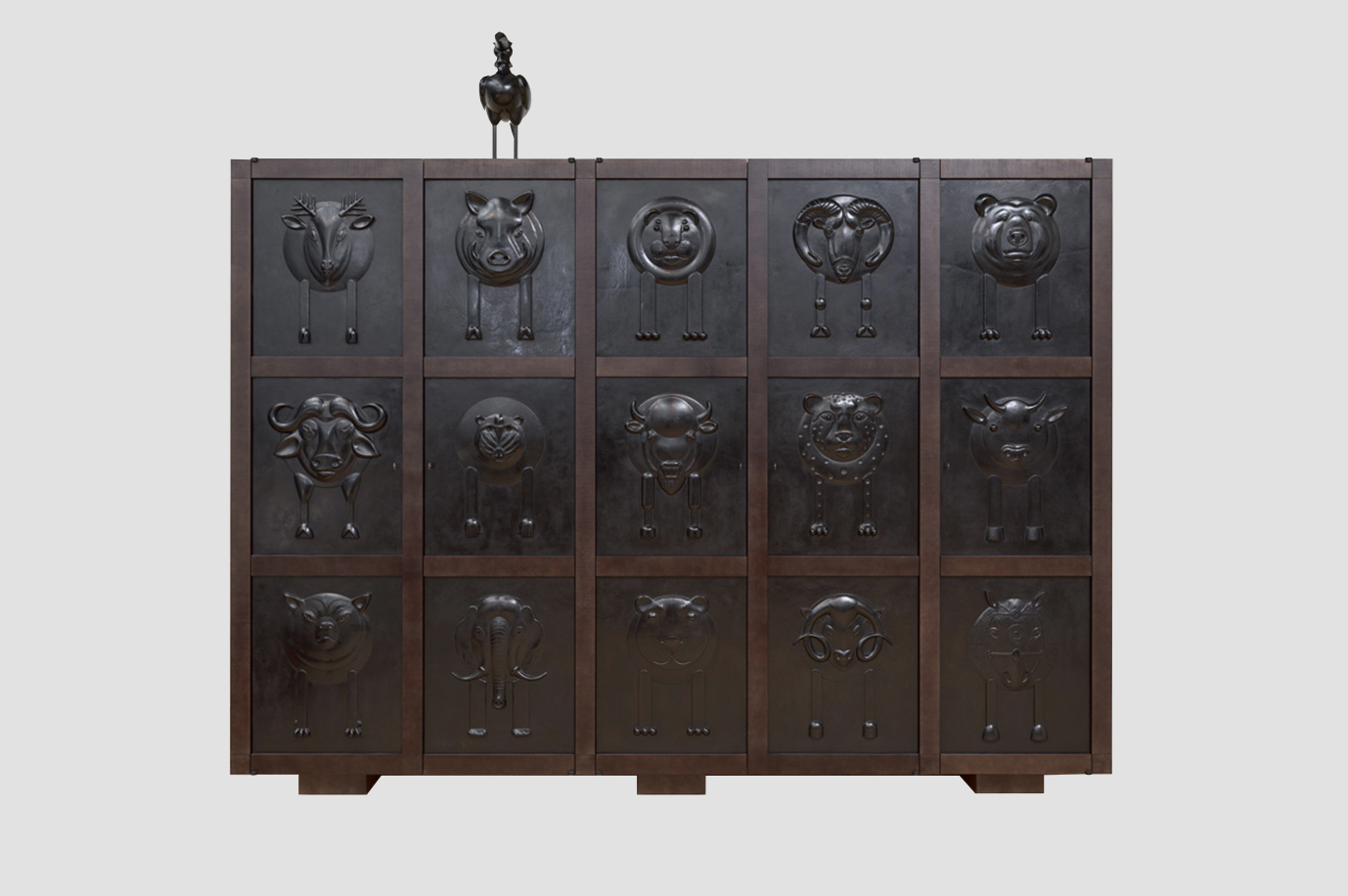 Sumer King Size
Design Jean-Marie Fiori

3350 x 2440 x 730 mm
Réalisation d'un buffet aux dimensions titanesques issu de la collection Sumer de J-M Fiori. Ce buffet en frêne teinté arbore fièrement dix-sept tête d'animaux en bronze.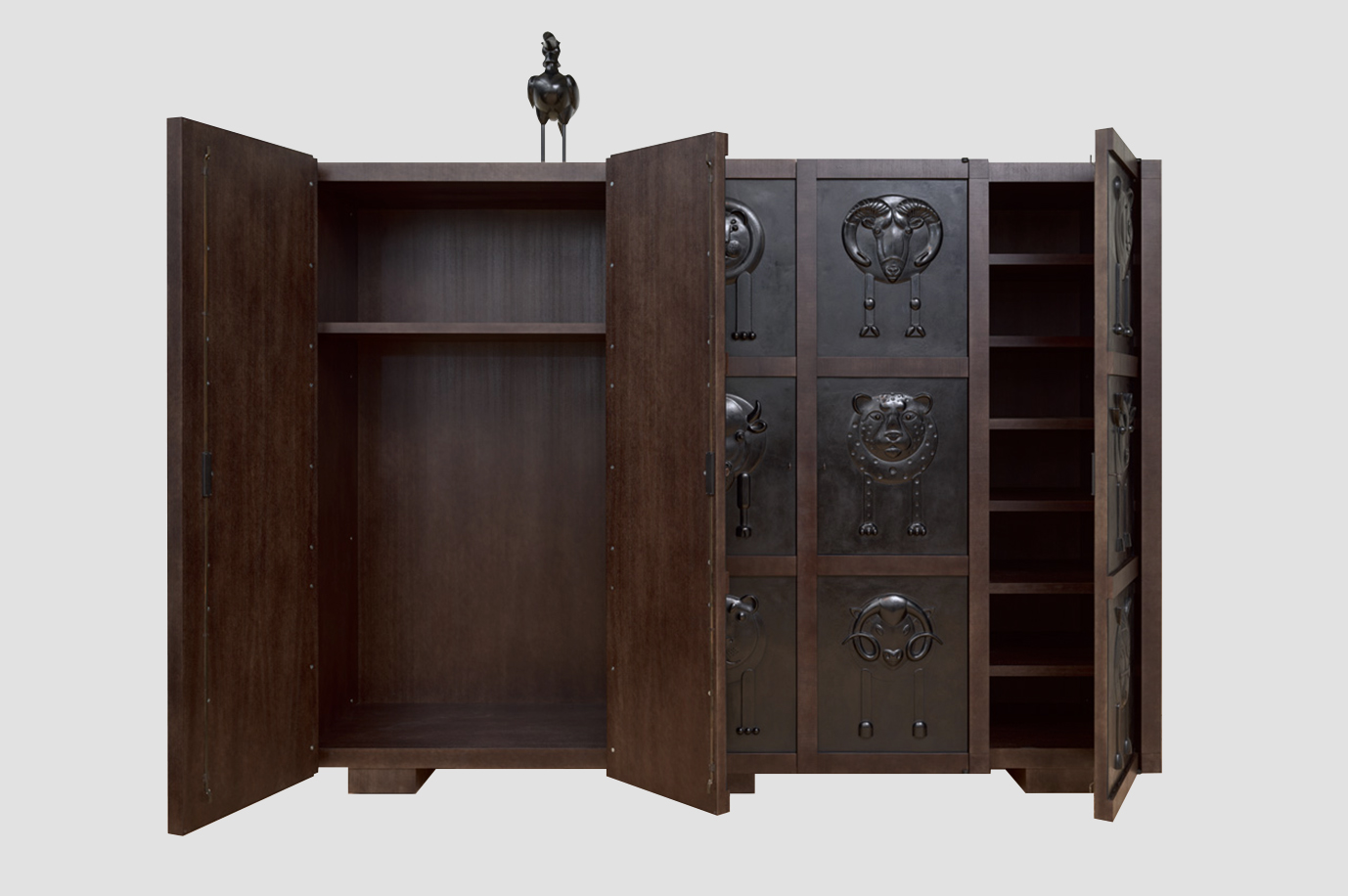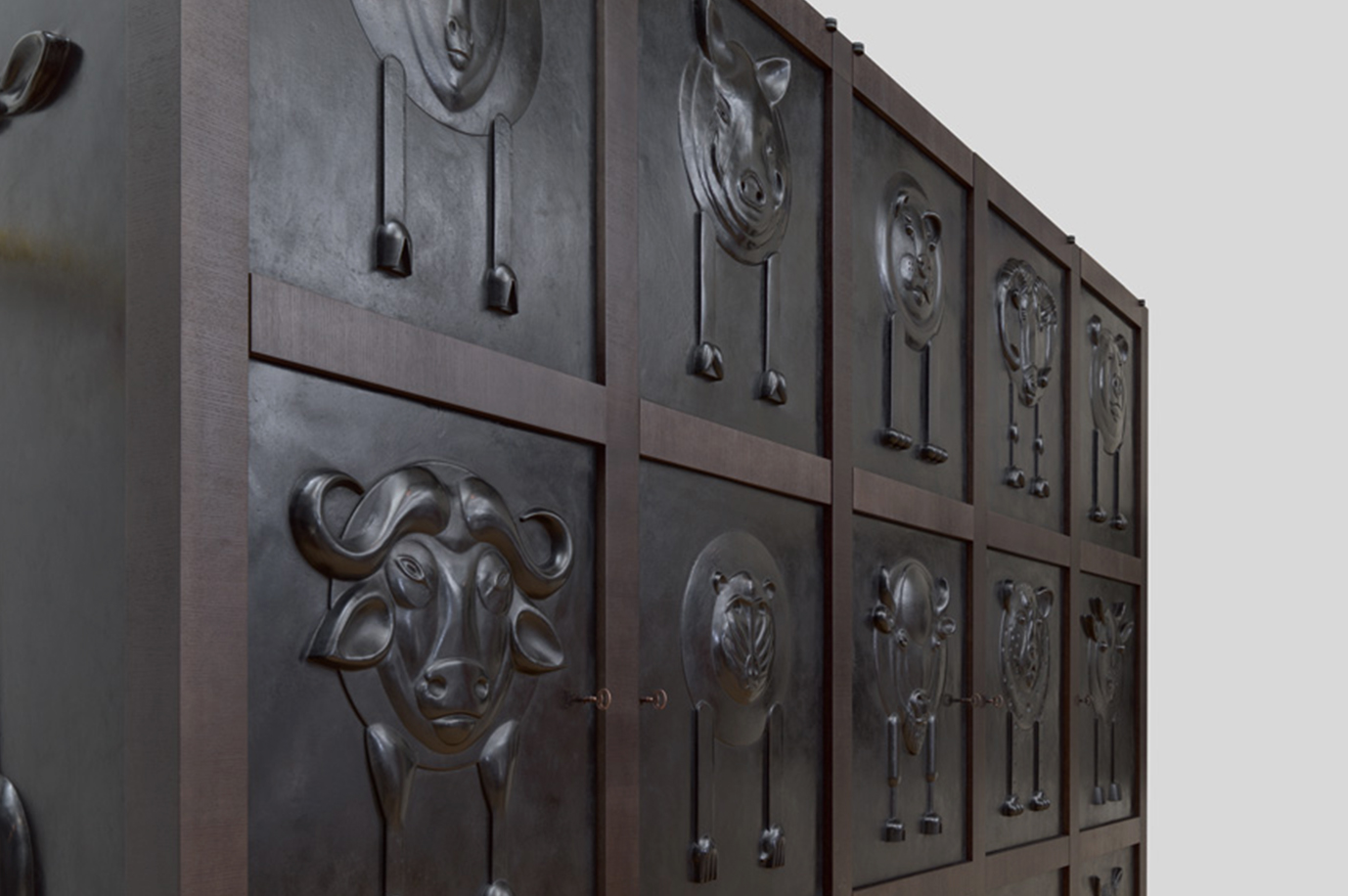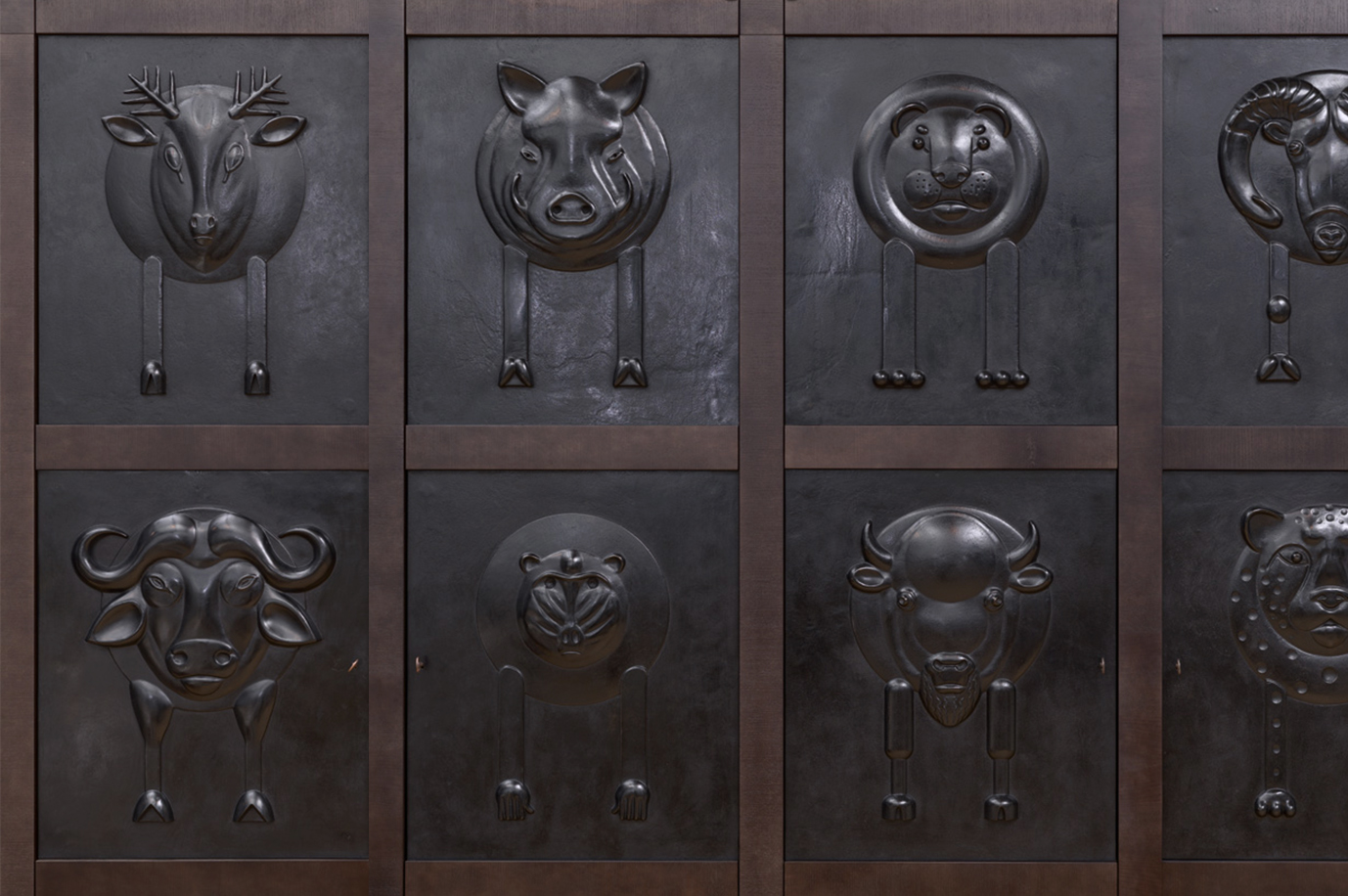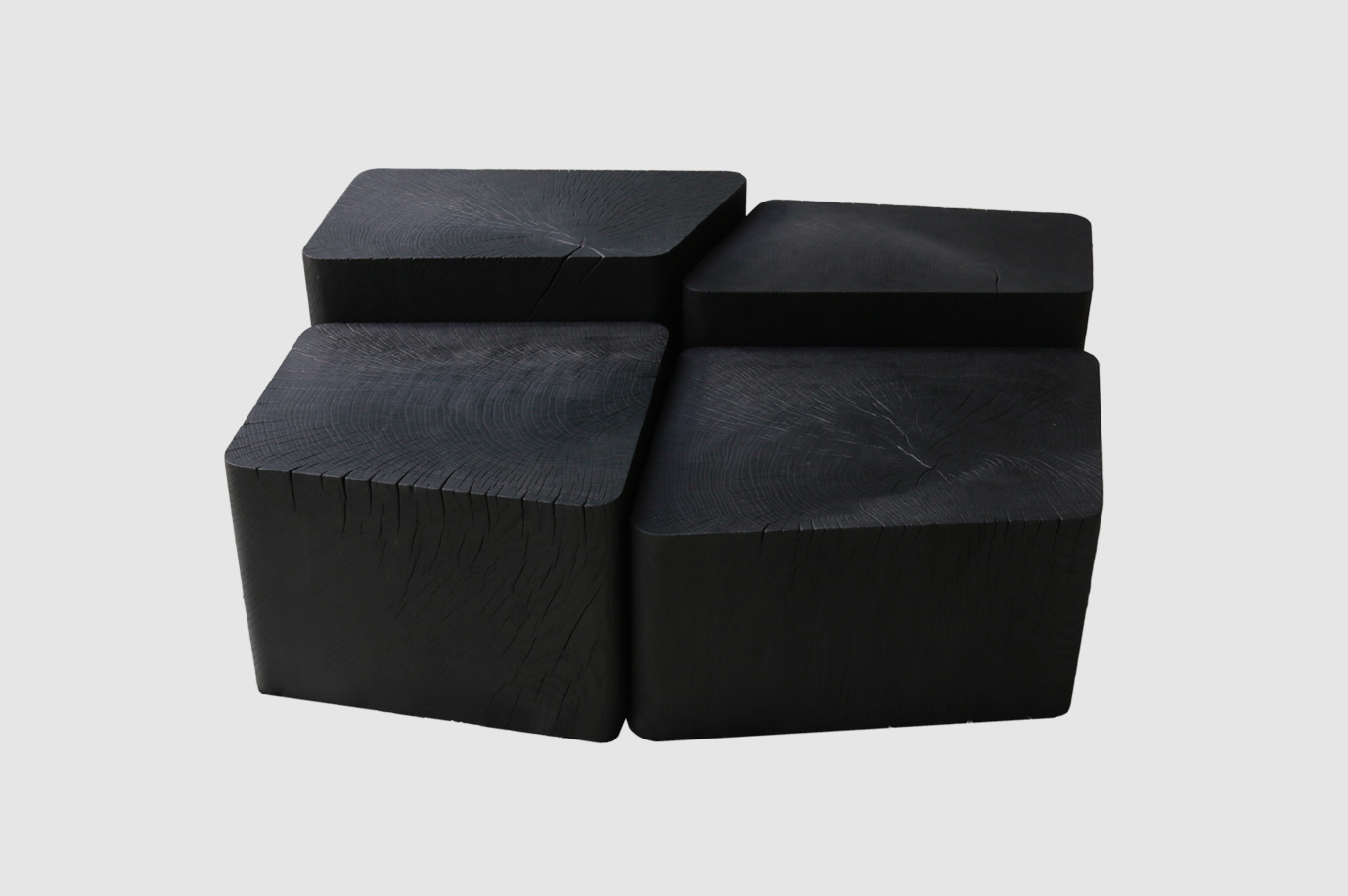 byo
Design Gaëtan Guillaumin
A wall planter that looks distorted by the plant's growth. Composed of three molded and oak veneered pieces respecting the continuity of the grain.
delicious
Design Mathieu Lehanneur
Storage units available in four stackable versions. The frame is made from 3-ply bamboo panels assembled with miter cuts. The surface is obtained by a colored varnish applied directly to the quilted mirror-polished stainless steel sheet.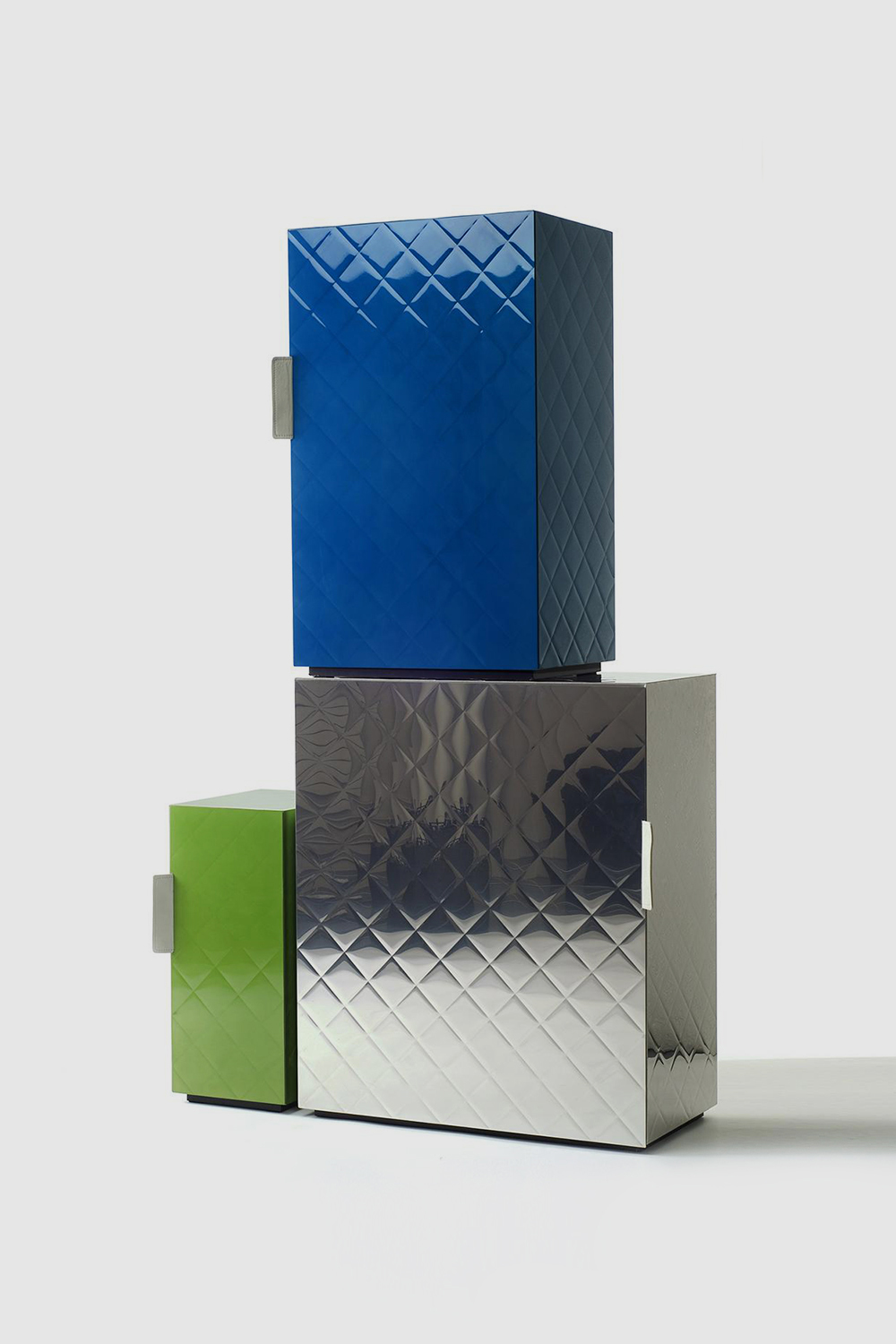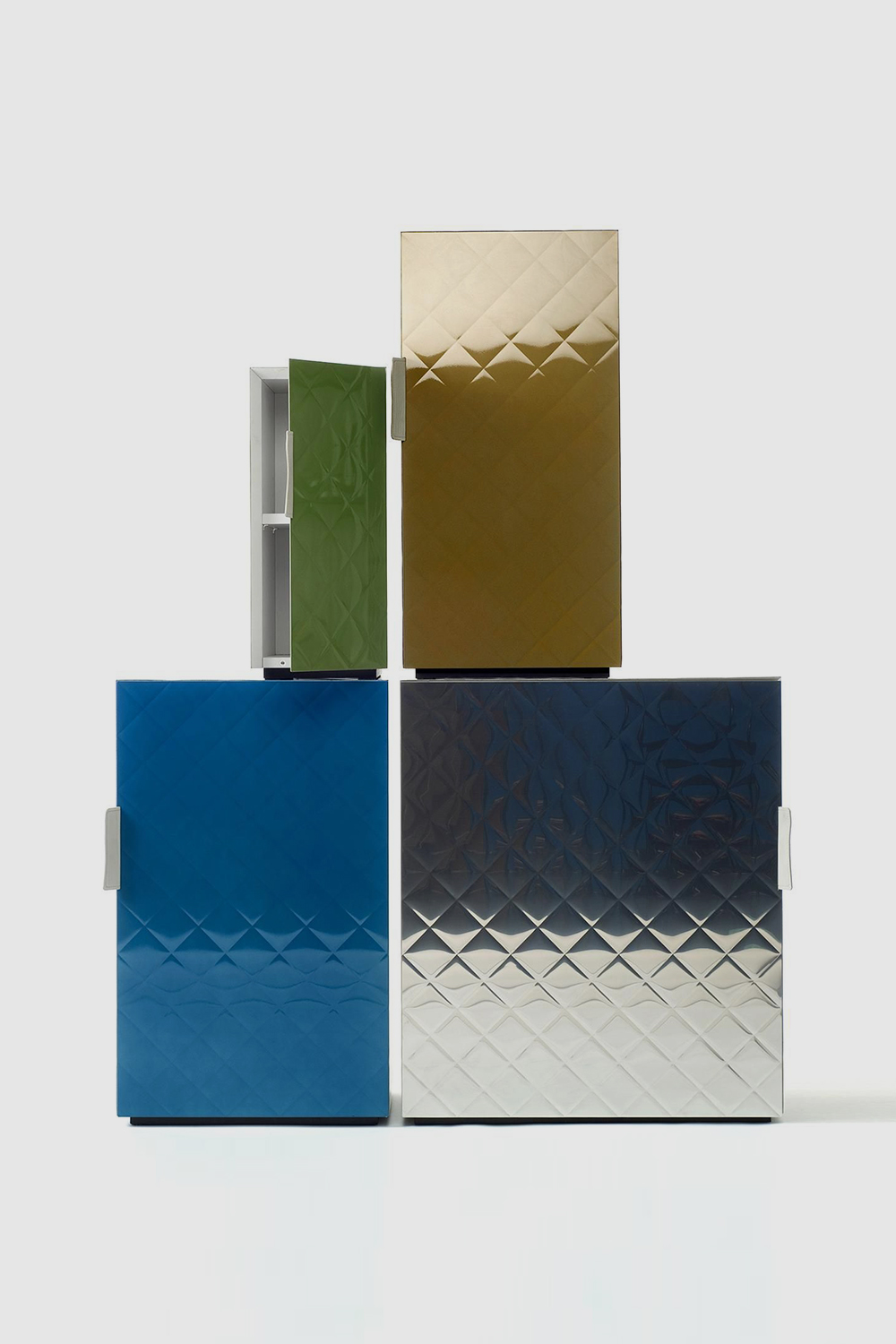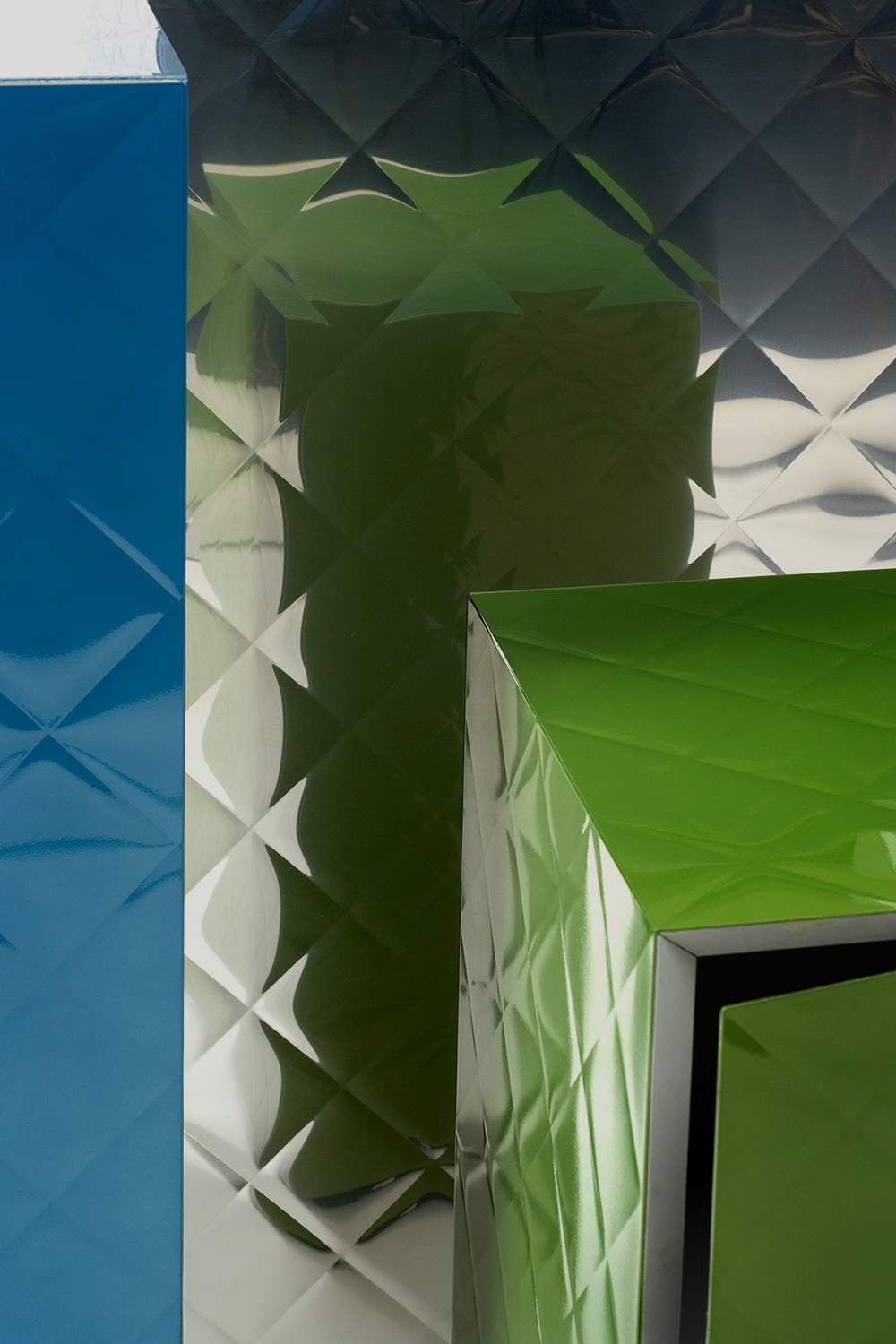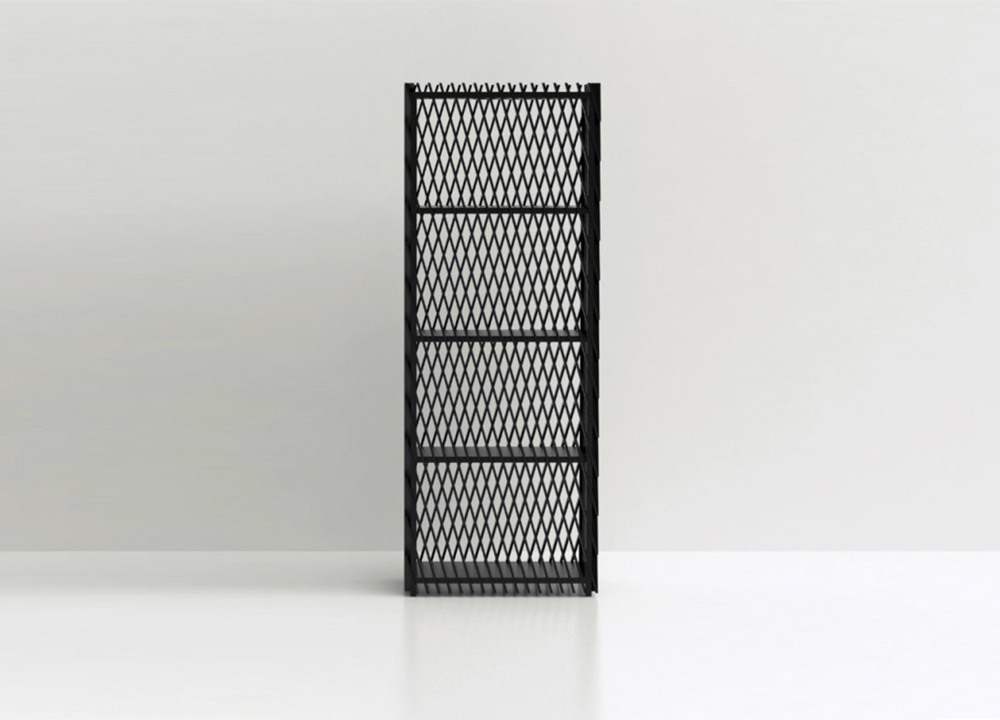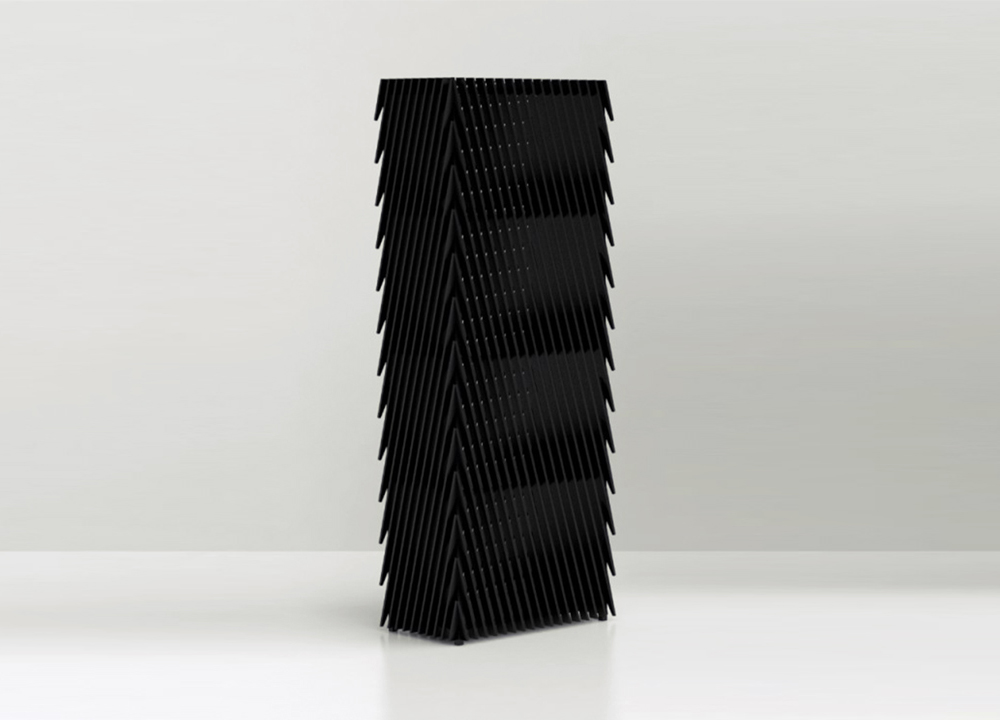 stripes
Design Normal Studio
Made from stained solid oak, from identical sections of wood placed at regular intervals. A veritable curiosity cabinet, this slatted cabinet appears openwork or solid depending on the view angle.
Palissade
Design Normal Studio
Sideboard composed of three boxes made out of pine plywood panels. The grain connection is ensured between the different faces, for the wood as for the gold leaf copper and palladium. Limited edition furniture for Ymer & Malta.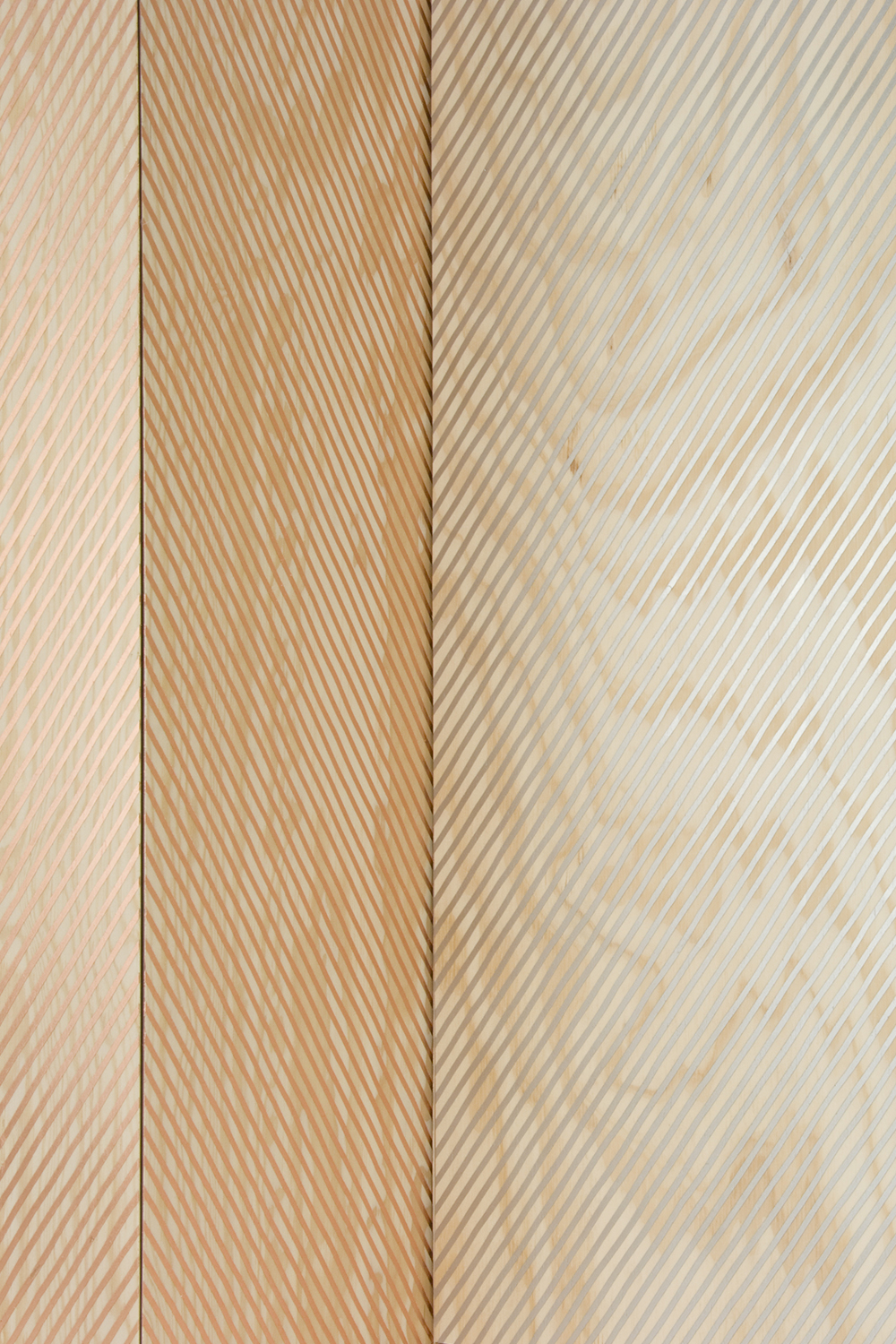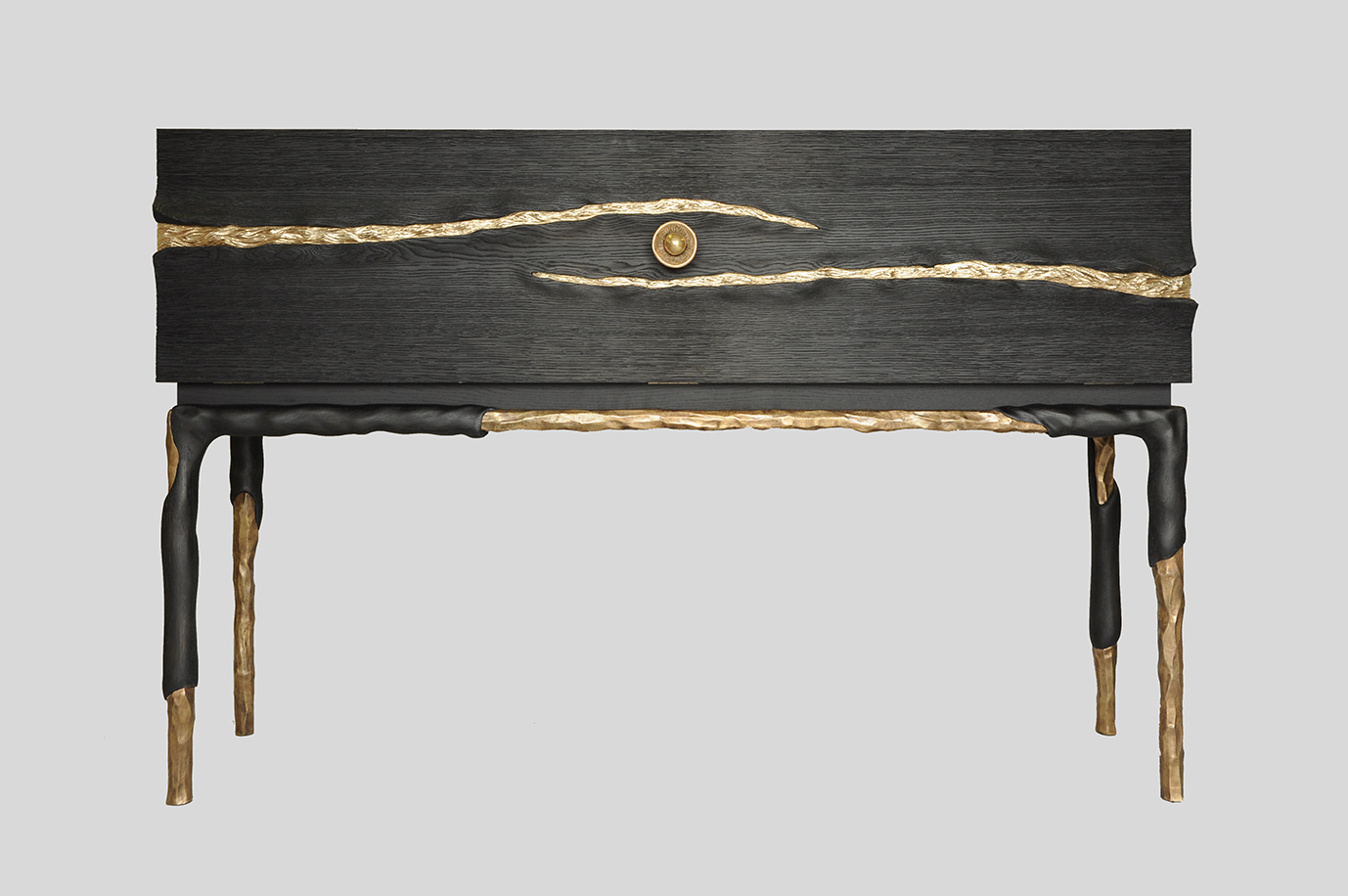 griffe du temps
Design Hoon Moreau

1600 x 380 x 1000 mm
A life cycle metaphor, as when time does its work. This sideboard gives us a glimpse of the precious heart of matter. It was made of sandblasted, carved, stained marsh oak, in gold leaf and bronze.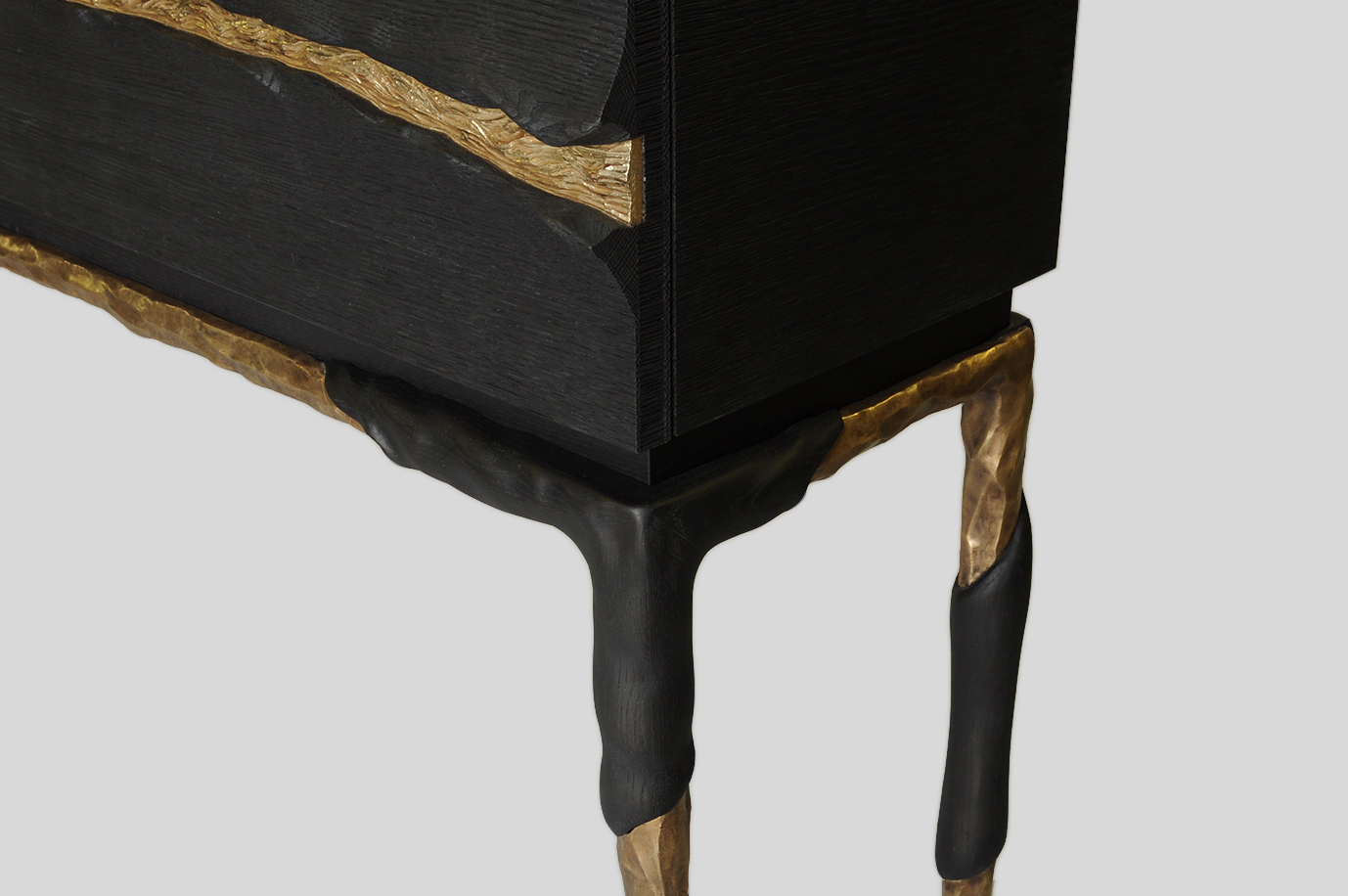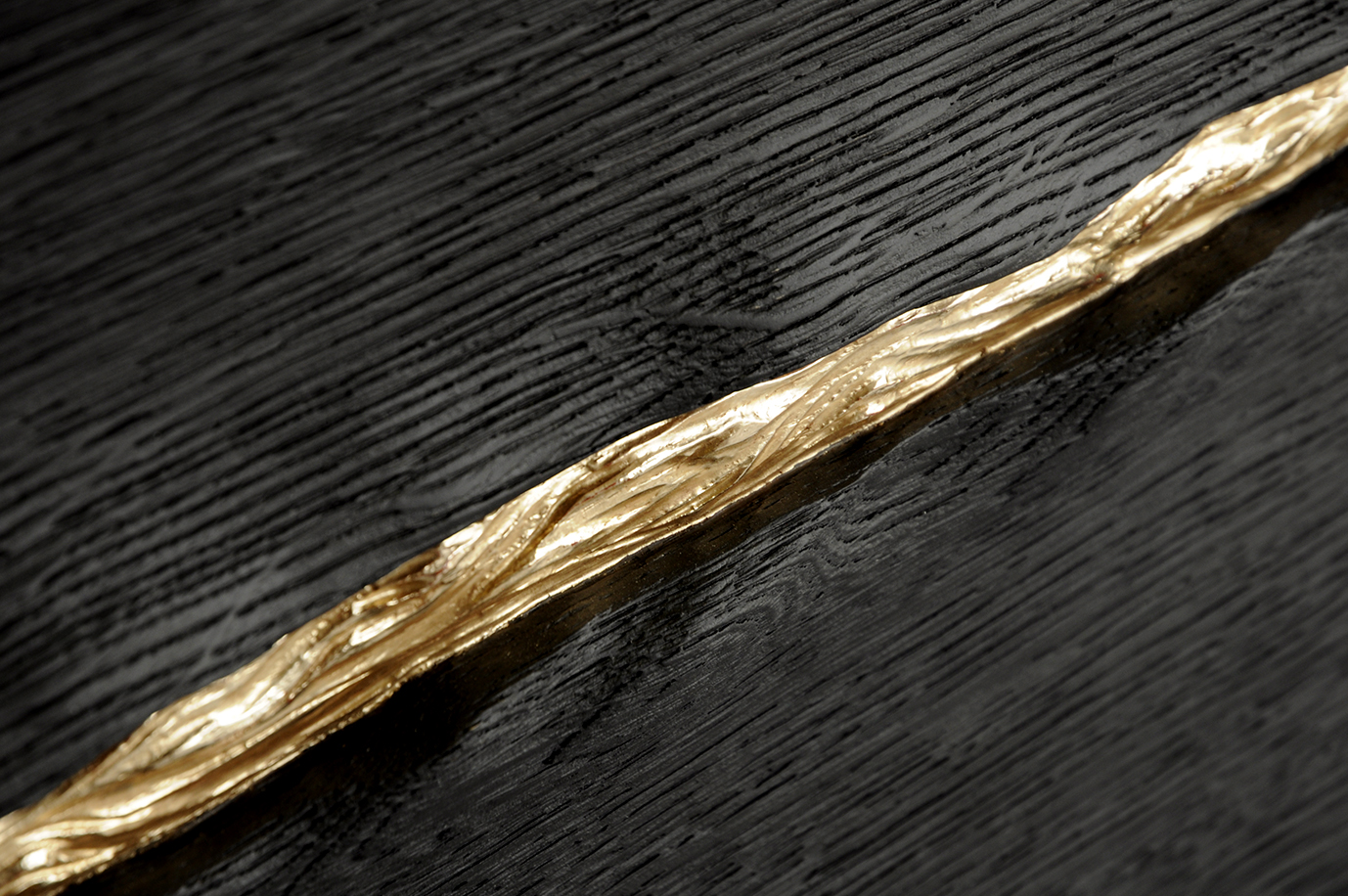 understand
what you love
Design Robert Stadler

L : 295 E : 22 mm
The creation of this hammer represents a real challenge. We have developed a technique that consists of using solid defibrated wood called Bendywood. When subjected to water, this wood can take extreme radii of curvature.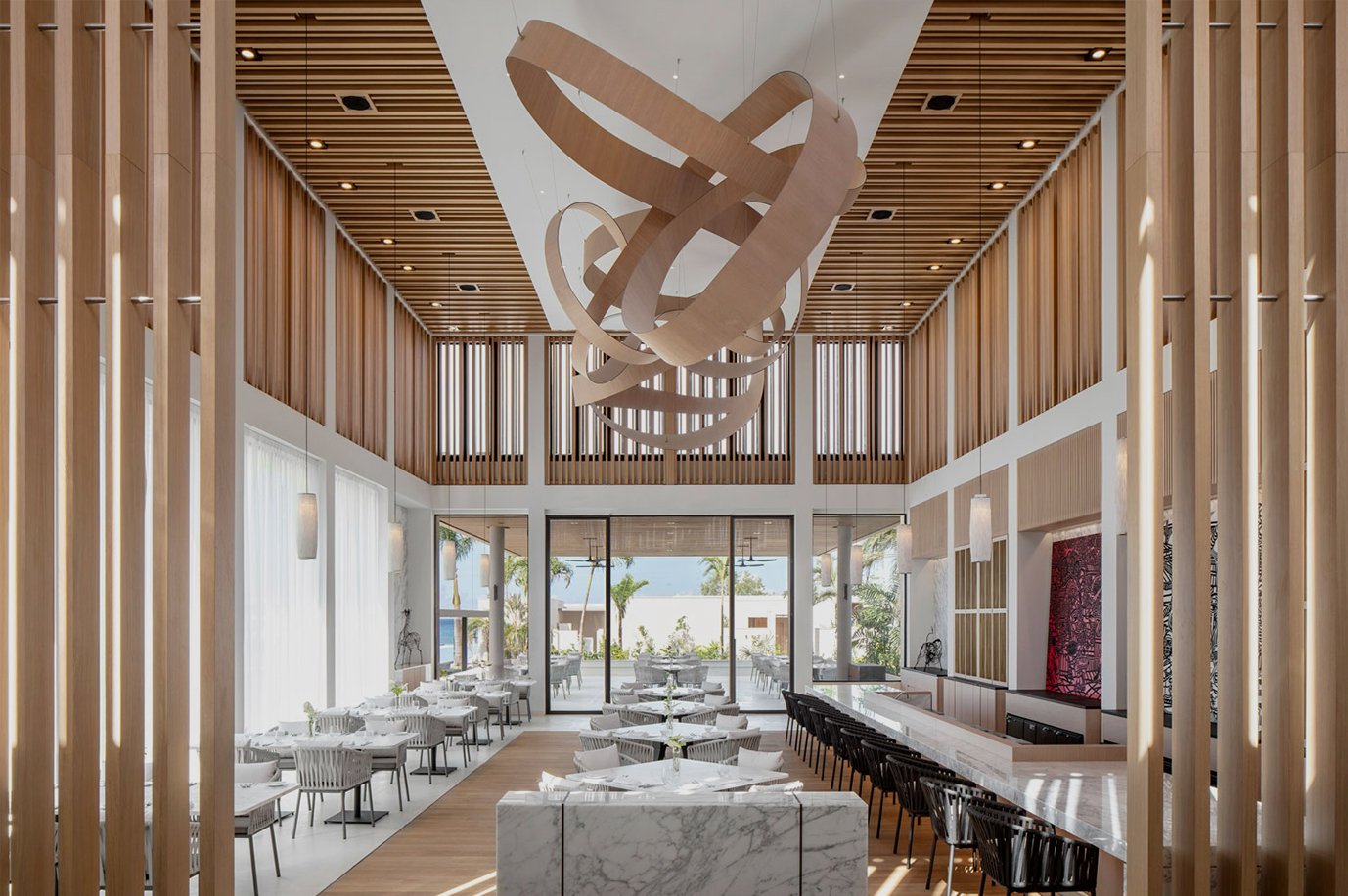 Copal AW²
Design ARCA

10 x 3 x 3 m
Structure overlooking a dining room on the Grenada Islands (Caribbean). This 30 meter long wooden ribbon is rolled up on itself and maintains its shape thanks to the C°WOOD© technology.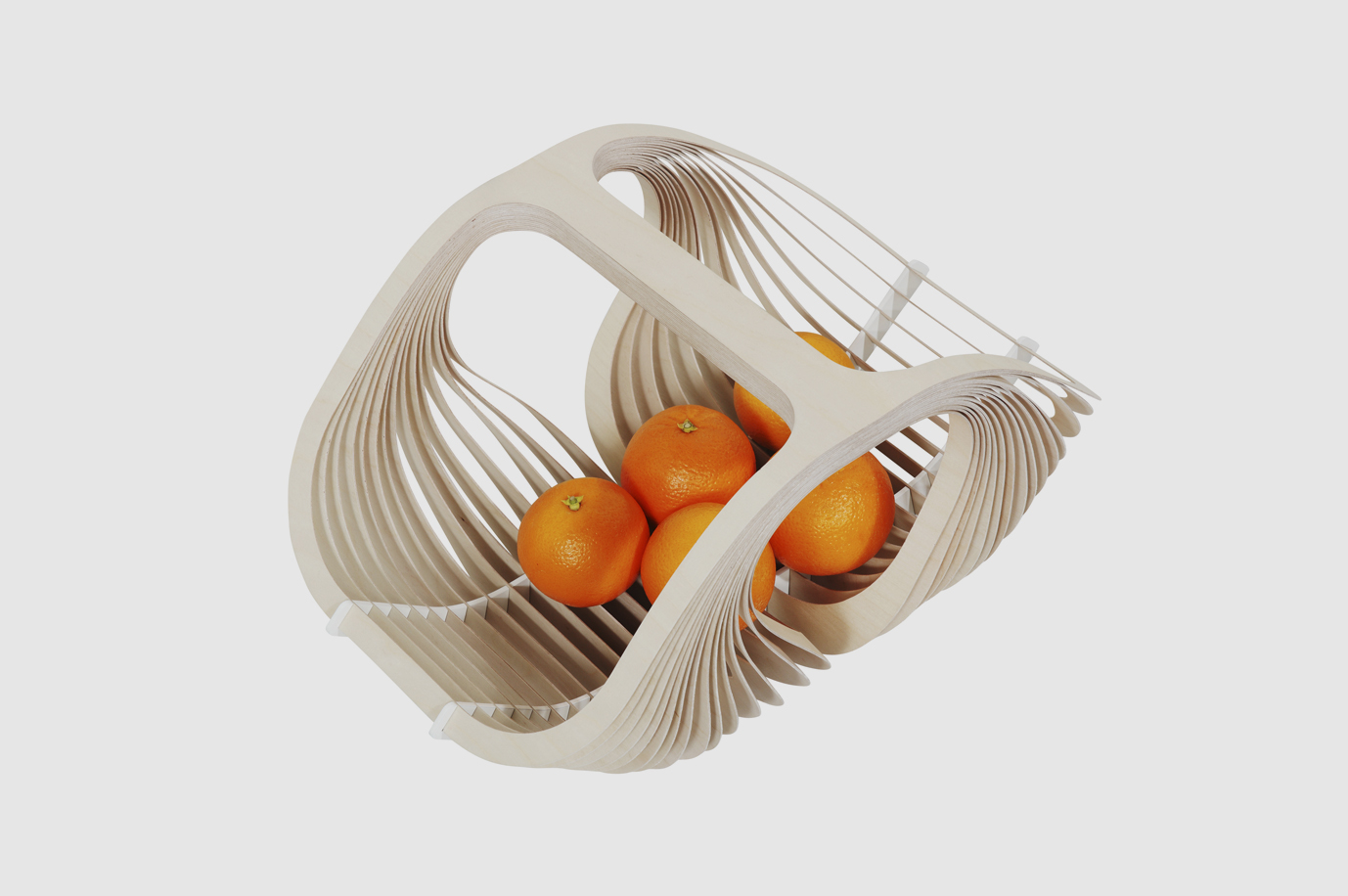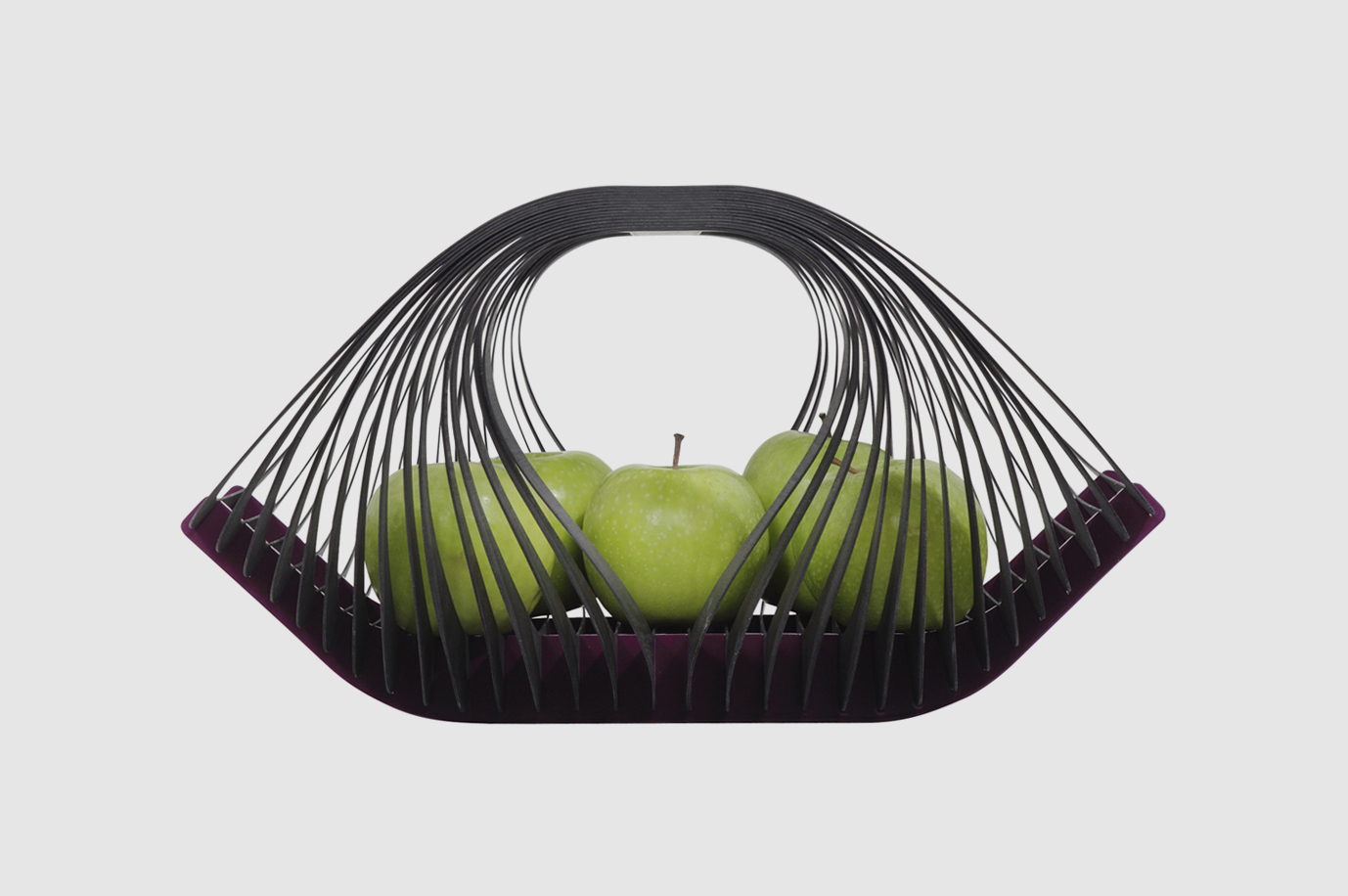 BRICHET
Design Pierre Brichet

A collection of baskets based on the performances and qualities of 1mm «aviation» type birch plywood. The smoothness, flexibility and resistance of this material make it possible to produce solid objects of great delicacy.
Ara
Design Grégoire De Laforrest
Production of a screen made of lacquered scales reminding the plumage of the Blue Macaw.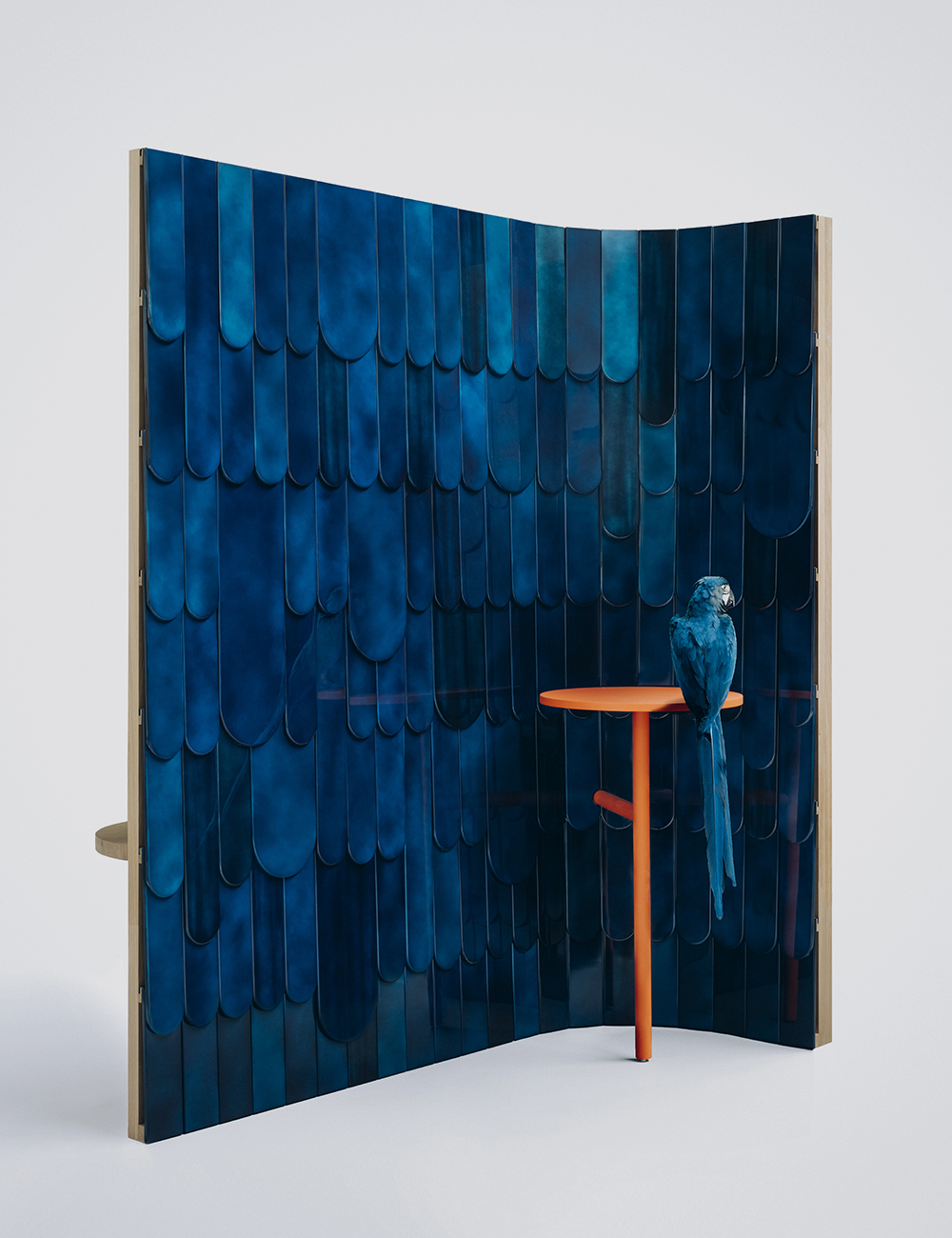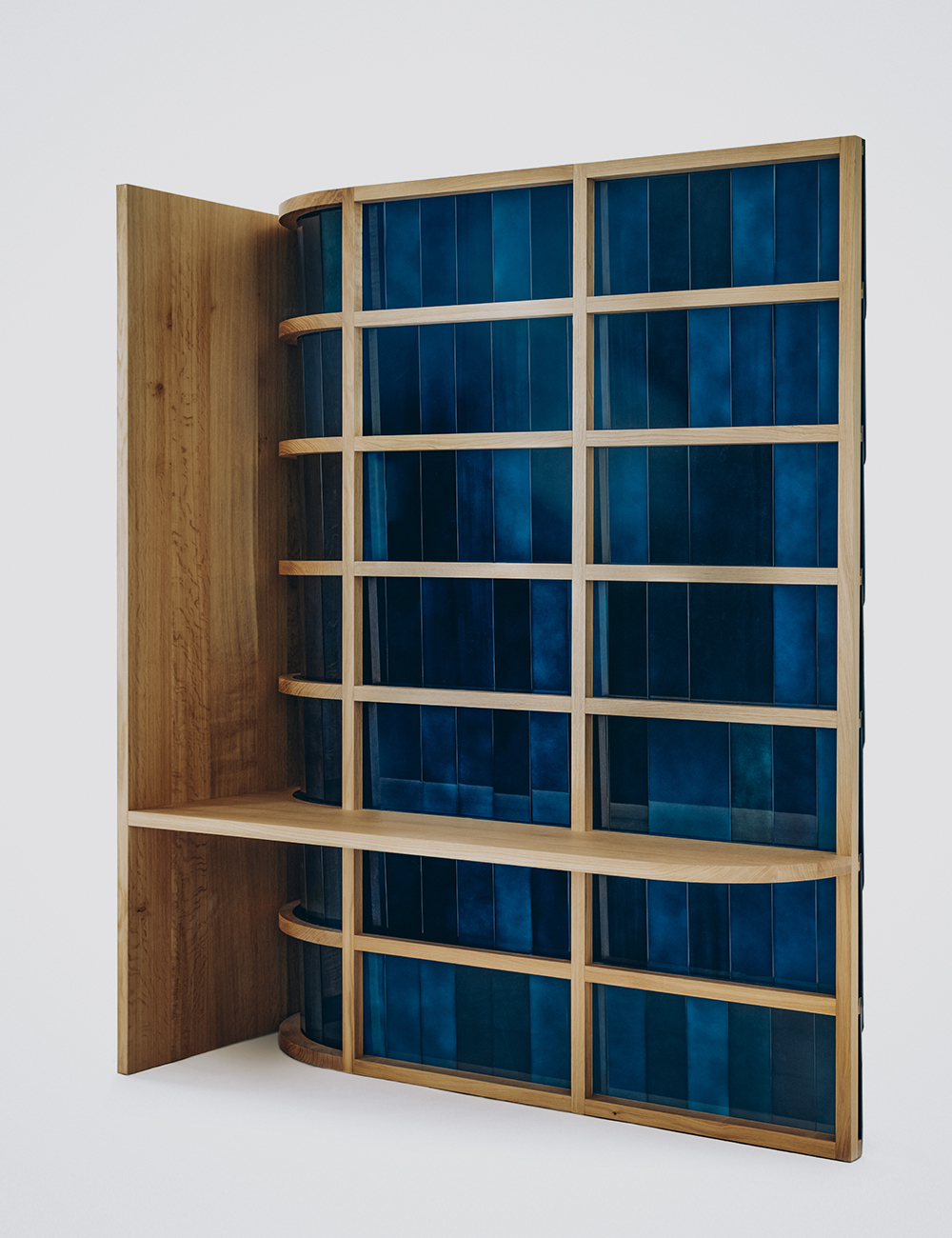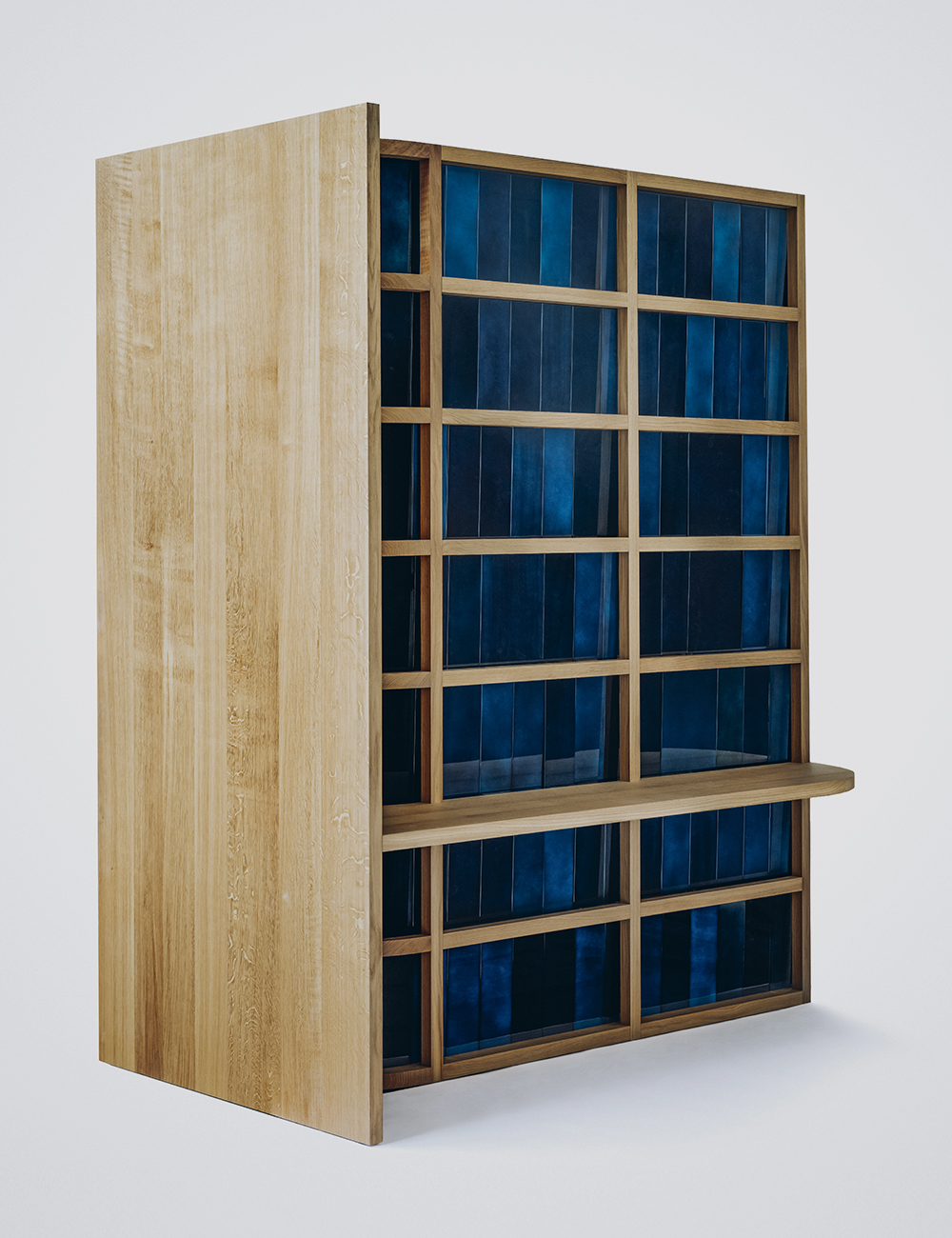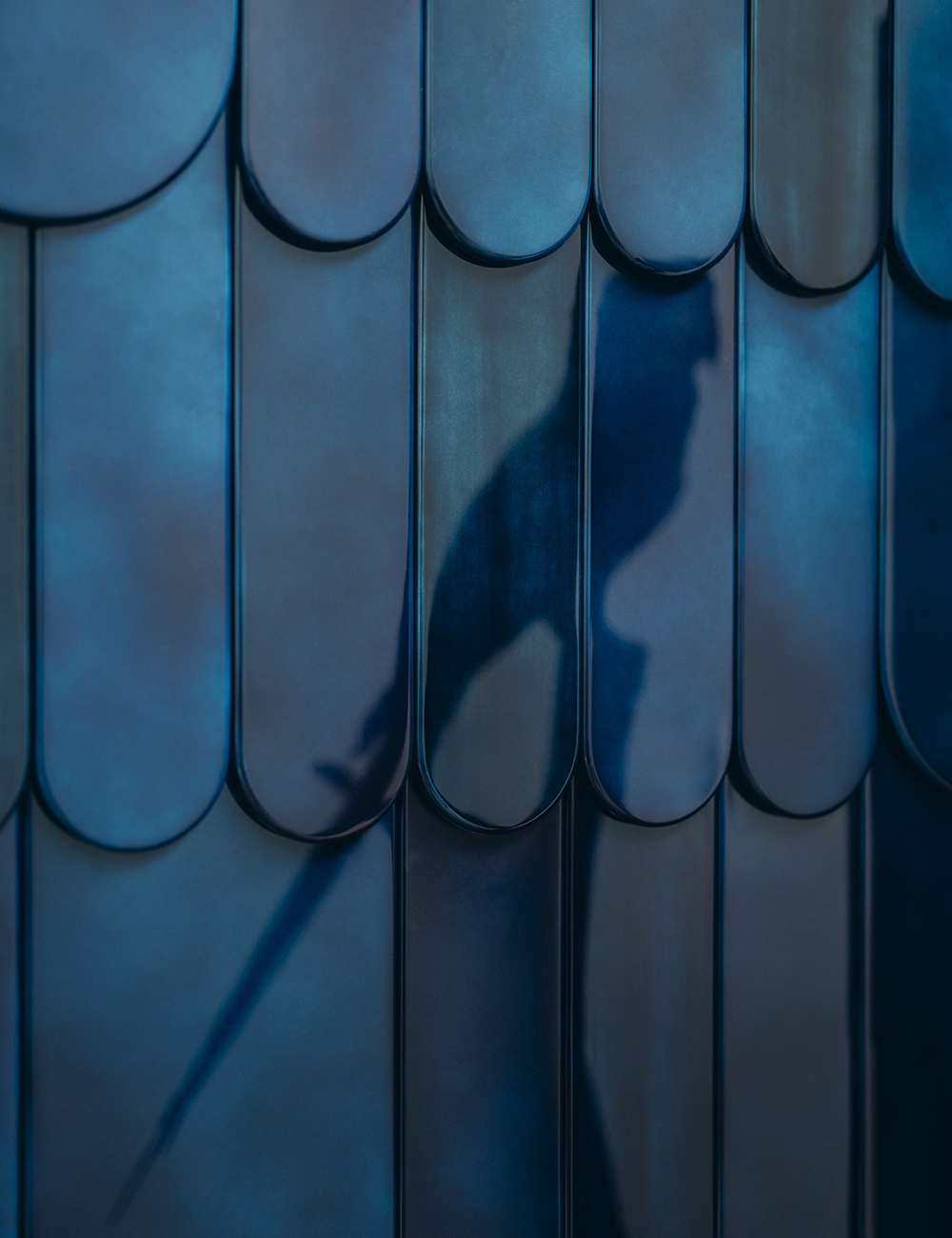 you name it
Design Robert Stadler

La multitude de technologies de production disponibles, permet aux objets de prendre n'importe quelle forme et apparence; le vrai et le faux bois se mélangent. Les deux éléments décoratifs peuvent glisser le long de l'étagère et sont faits de tissus de fibre de verre couvert de résine.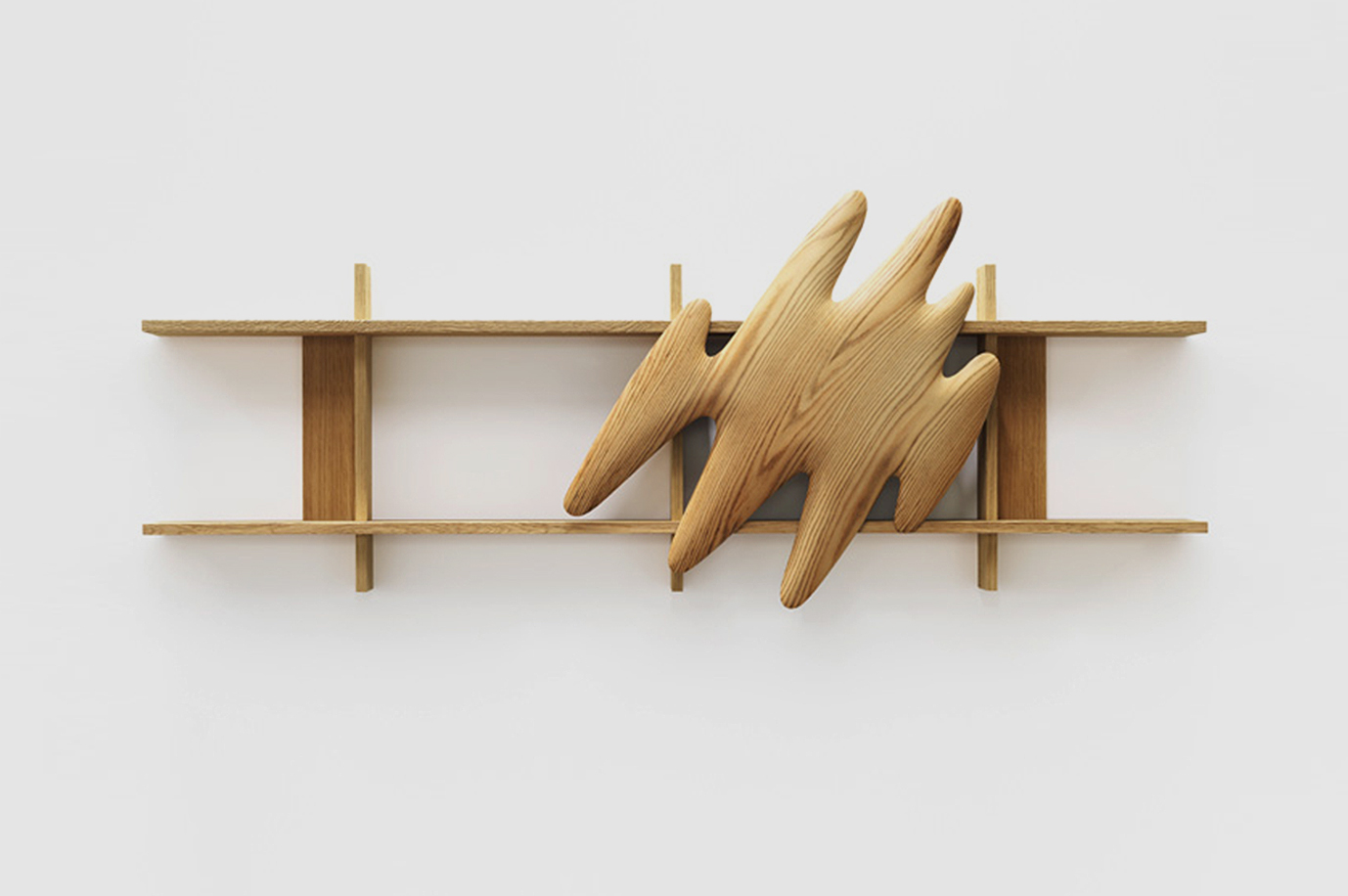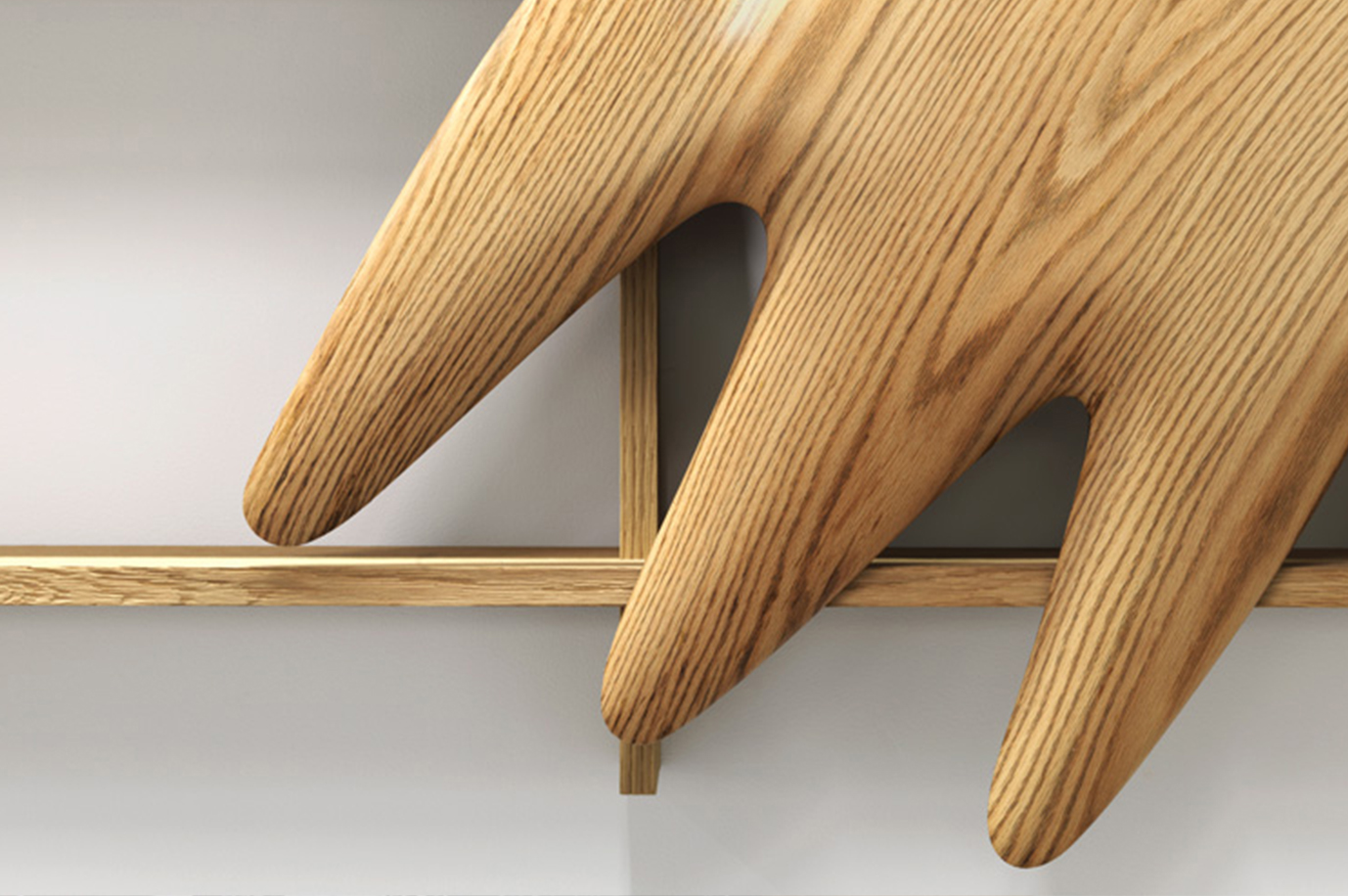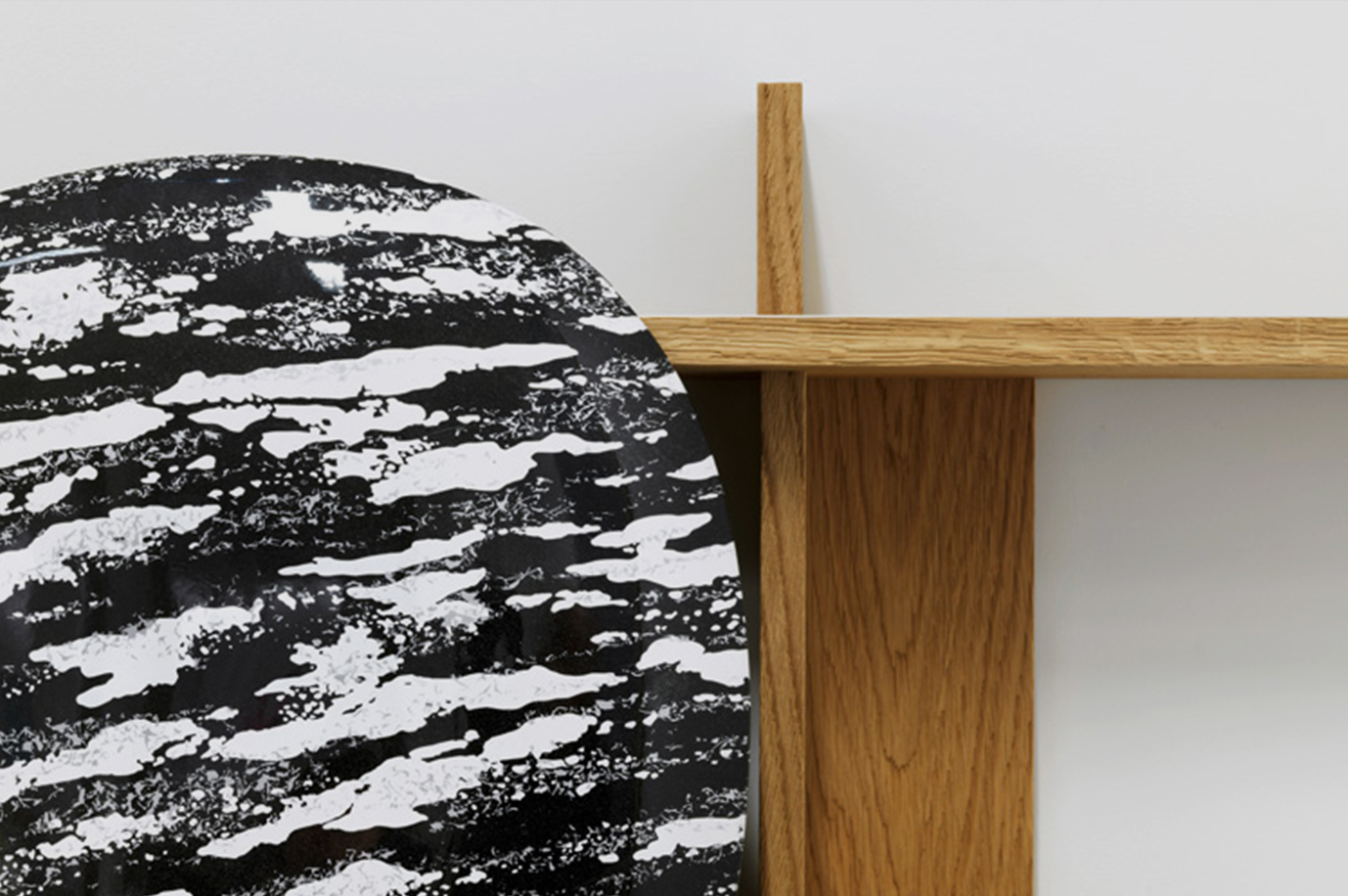 wooden heap
Design Boris Dennler
Designed from the illusion of a pile of wood formed by identical sections stacked, the function of the furniture appears a second time. This collection is a wink to antiquity objects that hide their true function. Limited edition order from Tool (s) galerie.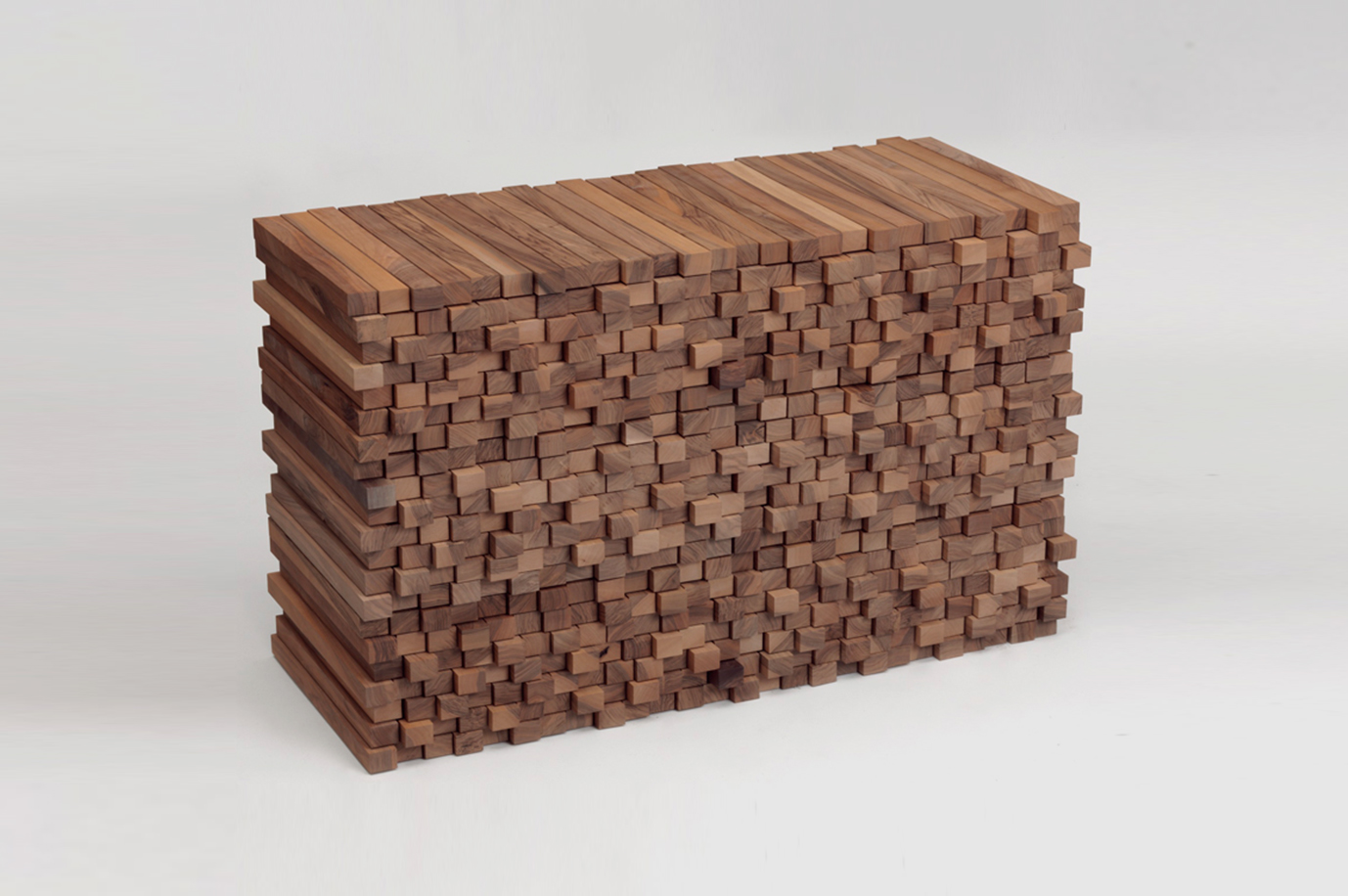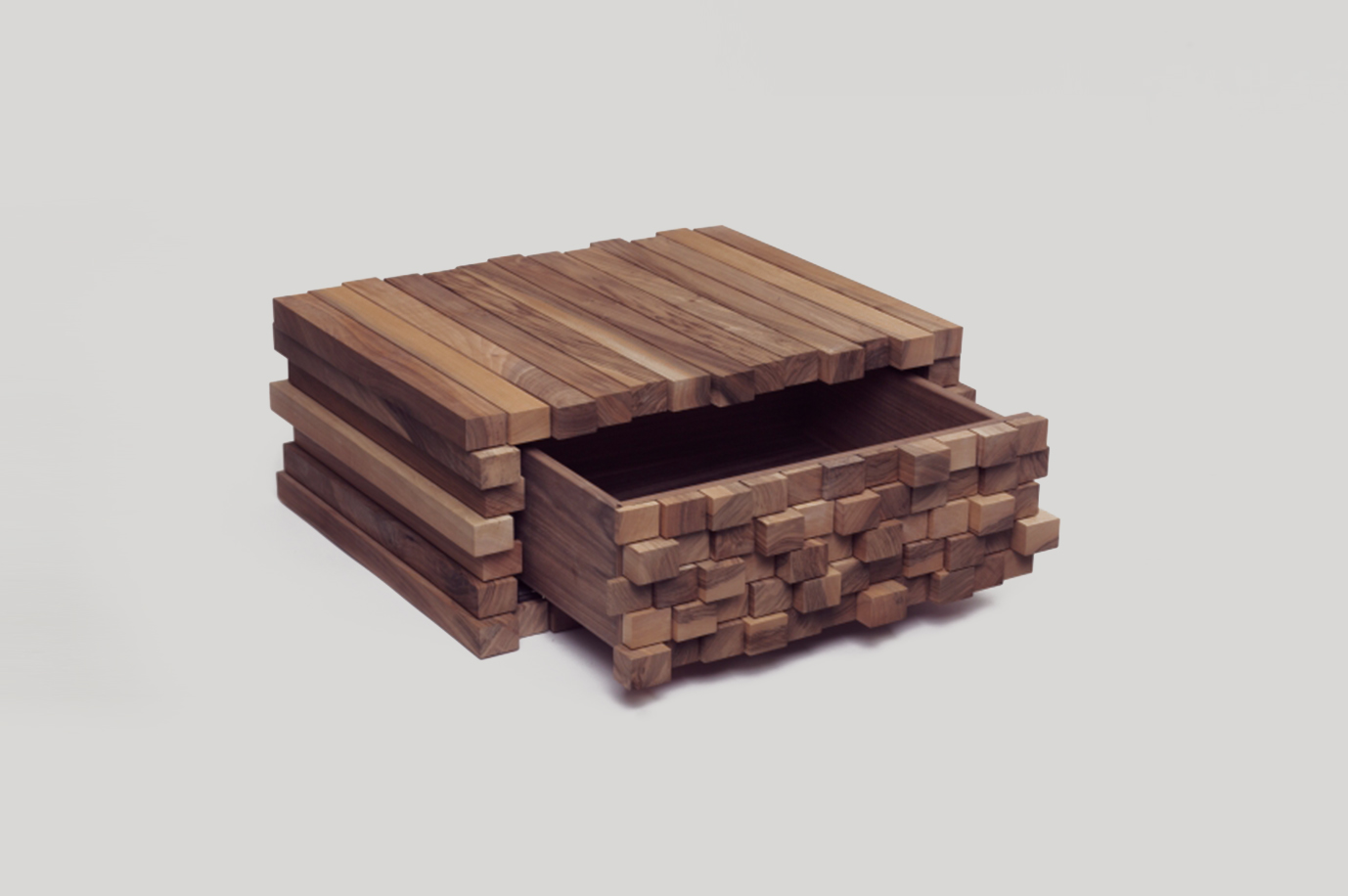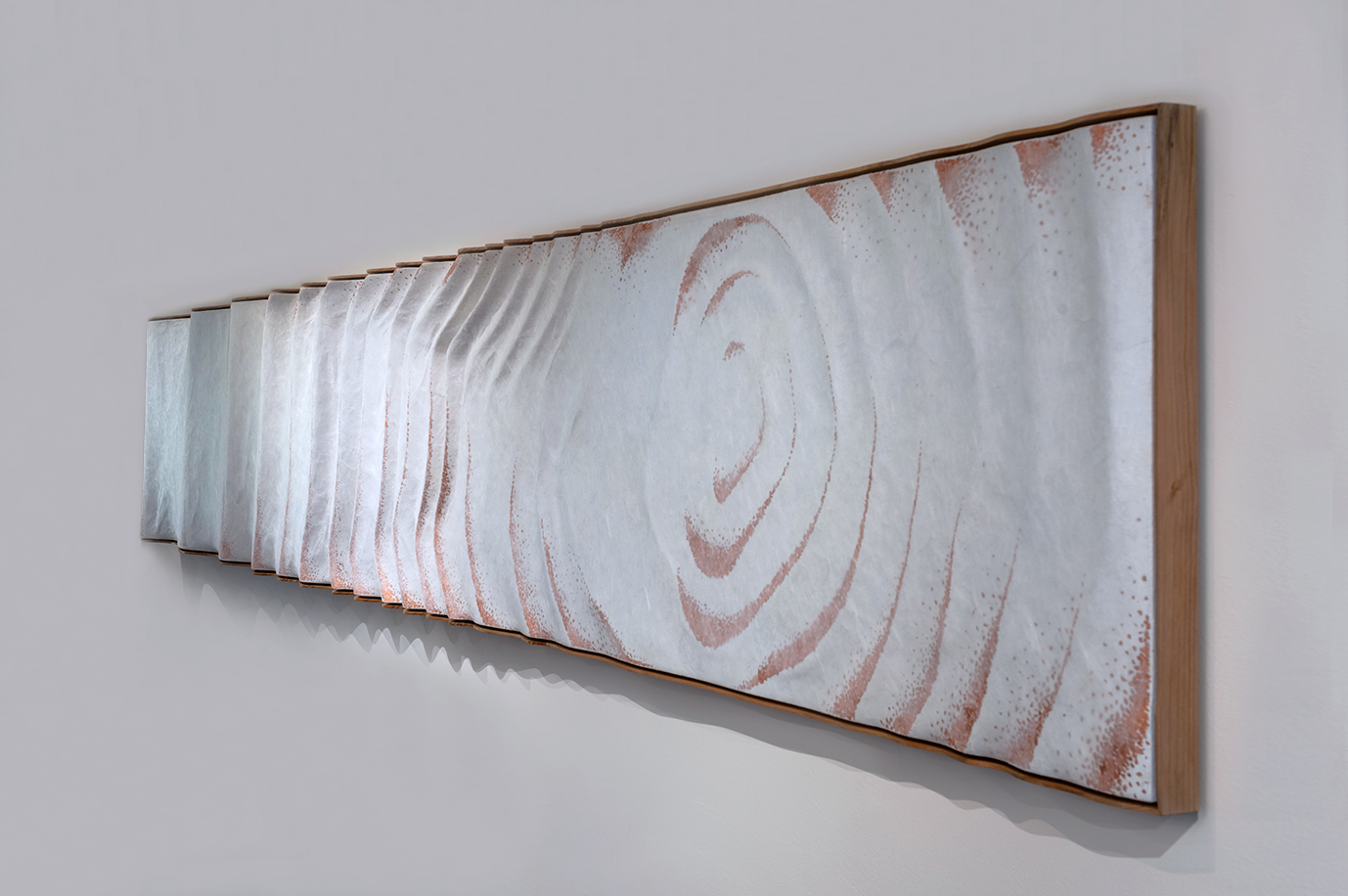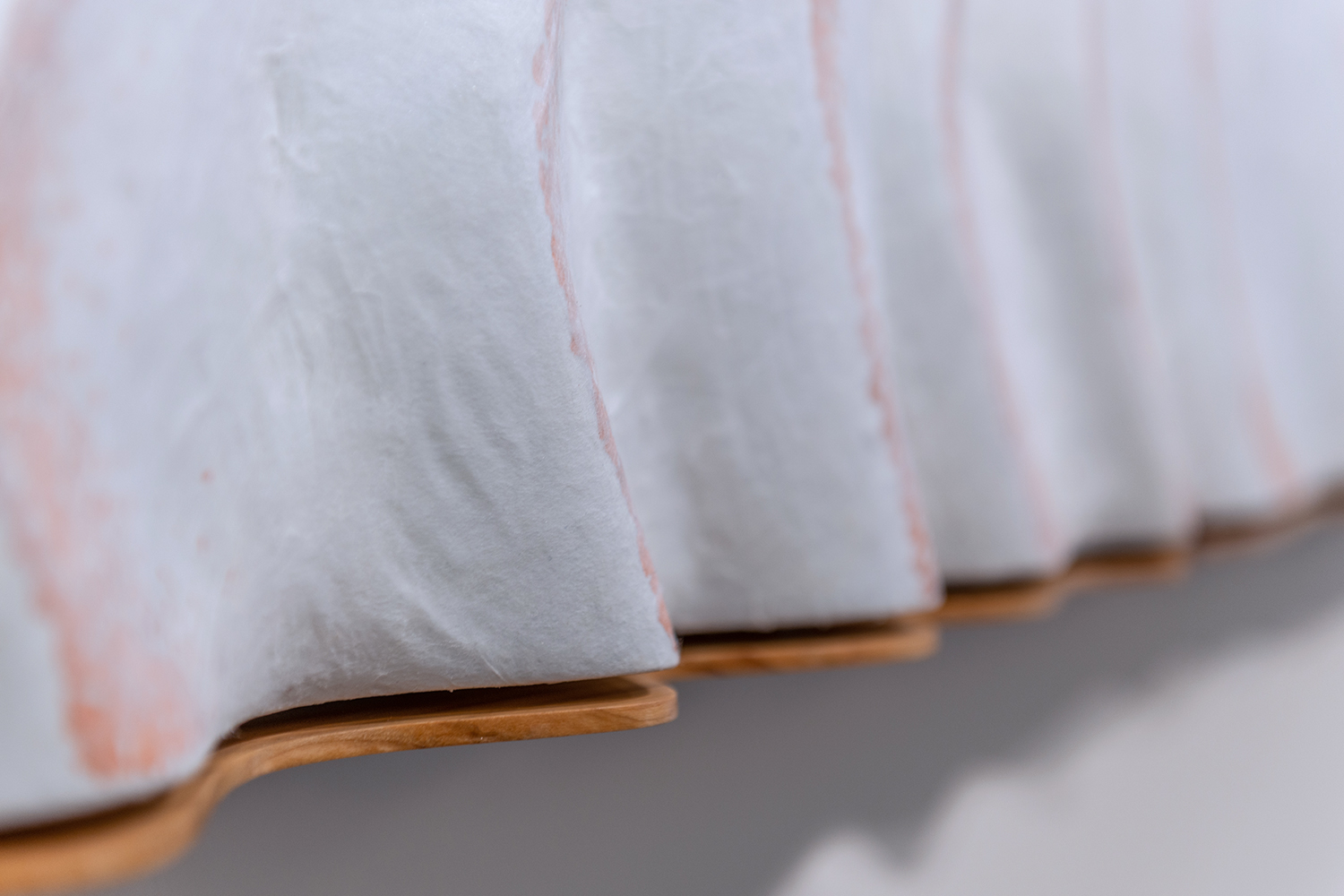 Sericyne
Clara Hardy

4000 x 600 x 120mm
Exclusive creation for the gastronomic restaurant of the Château de Montcaud. Carved and lacquered from a block and then covered with animal silk. The solid Lebanese cedar frame perfectly matches the undulations of the artistic work.

©Photos – All right is reserved.
Antoine Duhamel
Antoine Eschilmann
Karine Demeyer
Geronimo
Thierry Caron
Sophie Palmier
Olivier Foeller
12-14 rue Graham Bell 77600 Bussy Saint Georges